5 Elaborate Ways To Dump Your Man
24 September 2015, 12:49 | Updated: 8 May 2017, 17:09
Do it. Do it now.
Looking for a really over the top way to dump your man? Here are 5.


Hire a skywriter
Skywriters aren't just for romance anymore. They can also come in handy for when you're trying to stop romance from happening. According to Google, skywriting services start at $1,500 which, if you think about it, is not that much money for something as elaborate as using a airplane to write messages in the air.
Move to Brazil
Judging from the amount of people who write "come to Brazil" on YouTube comments, there is no one in Brazil at the moment. It will be a bit like hiding in plain sight. Go to the airport and buy the first ticket there. It will have probably never occurred to him to actually "come to Brazil".
Fake your own death
This one might be tricky. You'll have to pay off a coroner, at least two eyewitnesses, and warn your parents. But in the end, you will have successfully "ghosted" out of your relationship without actually having to communicate.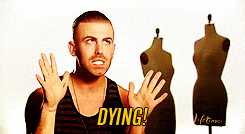 Do an off-broadway show about wanting to leave your man.
Invite him to the premiere and dedicate the show to him. If he's not a total dummy he might get what you're trying to say.





Bake a cake

Soundtrack to dumping your man