Guys, This Black History Month Was Lit AF
29 February 2016, 13:27 | Updated: 8 May 2017, 17:09
Anyone else notice?
It always felt like, as a kid, Black History Month always put special emphasis on Martin Luther King, Rosa Parks, and peanut butter. All important topics, mind you, but black history month never felt quite as dynamic and fun as this past February.
And I'm not the only one who has noticed that February has been especially lit this year...
This black history month has been oh so lit

— Lord Maison (@_Bambino) February 28, 2016
Suchhh a lit Black History Month. Best so far that I can remember

— Whitty Huton (@jusletyosoulGLO) February 27, 2016
Black History Month this year is so lit!!!!!

Like we've all collectively taken it up a notch, because it's so necessary today!

— Kris M. Brooks (@krisbrooksmusic) February 24, 2016
gif via giphy
Something feels distinctly different about Black History month 2k16 and I've got a theory. Black culture, social media, and music has been so subversive and unapologetically black this February, that this edition of Black History month has felt like a really fun black dream.
Everyone's favourite and most controversial moment was Beyoncé dropping Formation right before the Superbowl.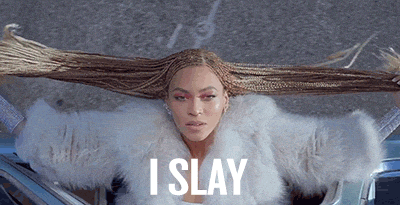 gif via giphy
Even though it's been a few weeks, I still feel so. damn. good when I hear "Formation". Besides it being the blackest thing Bey has ever done, it definitely meant a lot for it to be performed at such a mainstream event and by such an important artist. Beyoncé's poignant imagery for the video and her uh...niche lyrical content made black people everywhere feel confident that there was finally something in popular culture that was for them. Despite some people trying to ruin "Formation", it still stands as the real start to Black History Month.
Black people clapping back with #TrapCovers was ever so lit.
People needlessly covering "Formation" on guitars and pianos did eventually become a problem (can we have anything, ya'll?) but Black Twitter quickly came to the rescue with trap covers of popular non-hip hop songs. Aaaaaaaaand, it was perfect.


#TrapCovers "A thousand miles" @Zeph_Zeph @Destinyevvs pic.twitter.com/SQuEcIftxj

— Daisha McBride (@The_RapGirl) February 27, 2016
Kendrick Lamar at the Grammys was breathtaking.
gif via slant
My dude performed songs about the black experience, while shackled in handcuffs, and visual representations of the prison industrial complex. Does it get any more black than this?
The new Apple commercial with Kerry Washington, Taraji P. Henson and Mary J. Blige was SO FUN. #BlackGirlsAreMagic.
"It takes a lot of courage to wish a man well..."Mary J.Blige, Kerry Washington & Taraji P. Henson http://apple.co/itsnotmeitsyou

Posted by Apple Music on Thursday, February 11, 2016
Honestly, whoever conceived of an ad campaign starring three of the most powerful black women in popular culture was just a genius. Plain and simple. I feel like this needs to be some kind of series. Not just a few two minute ads! I need Gabriel Union in the mix too. Keke Palmer can come. Honestly, somebody call Nene Leakes! Is she free?
And, finally, Rihanna and Drake in the "Work" video was just so black and great.
gif via mtv
Picture this: Your OTP on screen together again, Drake's beard is DOING THE MOST, and Rihanna's looks are just simply flames emoji. Feels good, man. Drake also signed with BBK this month which officially makes THAT the blackest thing he has ever done.

Bonus Black History Month win: Iggy Azalea didn't release anything this month. She let us rest.

gif via giphy