17 Fails That'll DEFINITELY Happen On Your First Holiday Without Parents
9 August 2016, 19:32 | Updated: 8 May 2017, 17:09
Someone will go missing with the room key. 100%
Have you been on a holiday without your parents yet? Nope, we're not talking about a quick weekend away with your grandparents - that's doesn't count. We're talking full on, international week long travel with your best and closest friends. It's a rite of passage for every teenager.
If you HAVE been on a cheeky antics-filled holiday then you'll exactly what kind of fails we're talking about and if you haven't you've got all this to look forward to!

1) Packing will be a monumental struggle.
via gifsoup.com
Before you've even gone on holiday, trying to pack your suitcase without your mum's interference will the hardest thing you've ever had to do. Mainly because she won't be there on the other side to provide the things you forgot to pack. DAMN IT!
2) Someone will forget their passport.
via giphy.com
You're so used to having your parents look after all your important documents that it doesn't ever actually occur to you that you're actually going to have to be responsible for your own international identity this time.
3) Many MANY selfies will be taken.

via giphy.com
Cue the arguments about which one makes all of you look good before having full squad clearance to post onto social media. But then again, you'll have your profile pic sorted for the next few months.
4) The first trip to the supermarket will result in nothing but Pringles and Lemonade.

via giphy.com
You can totally survive off Pringles, right? Right?
5) There's almost a guarantee that the squad will argue.

via giphy.com
Arguments are a staple of any parent-free holidays. They'll mainly be about sleeping arrangements and sunbeds though, so you'll all get over it within an hour.
6) There will be a fancy dress party.

via giphy.com
It doesn't matter if you're on Spring Break, on a girl's holiday to Zante/Magaluf/Ibiza or even at Camp... there. will. be. a. fancy. dress. party. And if you're not prepared for it, you may as well stay in. Soz.
7) Someone will be homesick.

via giphy.com
Obviously. The first holiday without your parents is bound to be a bit scary for anyone. Be nice to your homesick friends, treat them to a Magnum by the pool. :)
8) You'll all be in bed by 10pm on the first night.

via giphy.com
The harshest truth of ANY squad holiday. All that excitement and all that travel - you won't even have the energy to go and explore your surroundings.
9) Eeeeveryone will fight over the bathroom.

via giphy.com
This is the closest you will ever get to taking part in the Hunger Games. Also, who's clever idea was it to only bring one set of straighteners and a hairdryer anyway?
10) Someone will go missing.

via giphy.com
You head out for the evening to a nice beach bar but as the night progresses, your group gets smaller and smaller. The rest of the night will be spent trying to locate each squad member and making sure everyone makes it back to the hotel alive. NIGHTMARE.
11) Someone will go missing - WITH THE ROOM KEY.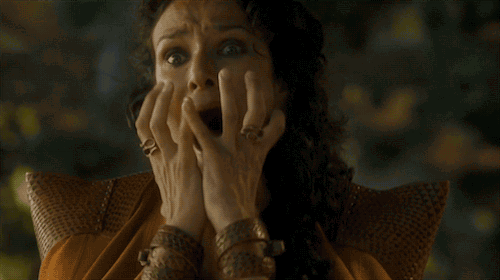 via giphy.com
For some reason, you thought only taking one room key out with you was a good idea. IT'S NEVER A GOOD IDEA, GUYS!
12) Someone will fall asleep in the sun.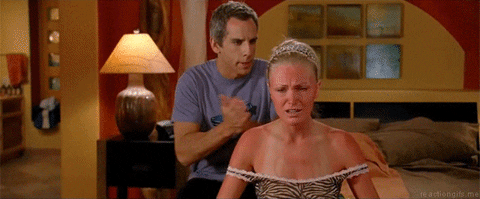 via giphy.com
Under no circumstances should you anger this person for the rest of your trip - it's like The Hulk, but with really bad sunburn instead of all the green.
13) Someone will run out of money.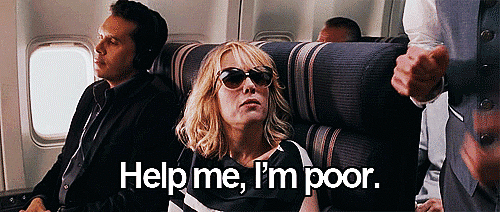 via giphy.com
And your group will spend the rest of the holiday lending cash to your poor friend. God, you're so nice.
14) Plans *will* be abandoned.

via giphy.com
You'll peak too soon! You intended to have a really great night out but suddenly the thought of staying in watching YouTube and playing card games is way more appealing.
15) One of you will end up with a holiday boyfriend.

via giphy.com
It's inevitable. And the rest of the squad will have to spend the rest of eternity hearing about their long distance two-week relationship. Yawn.
16) You'll have to physically fight people to stop the incriminating holiday photos going on Facebook.

via giphy.com
You know the ones - the ones where you're hanging off hotels balconies? DON'T TAG ME, I'VE GOT MY MUM AS A FRIEND.
17) A massive group text will be created in honour of the legendary holiday and your life will be nothing but private jokes and non-stop notifications.

via giphy.com
You'll annoy nearly every single person who wasn't on the holiday with your non-stop chat but what do you care?