24 Moments In 2016 That Made Us All Scream "YAAASS!"
28 December 2016, 19:09 | Updated: 13 December 2018, 12:46
See... 2016 wasn't a complete mess was it?
2016 will go down in history as one of the worst years of all time, but lest we forget these incredible moments that had us all screaming "YAAAAS!" at the top of our lungs throughout the year.

1) When Panic! At The Disco dropped their fifth studio album and it became the band's first number one album.
Fueled By Ramen / via giphy.com
It was also voted the Best Album of 2016 in the PopBuzz Fan Awards. Thank you for your services to bangers and bops, Brendon.

2) When Amber Rose scalped Kanye West with the clapback of the century. @DaRealAmberRose / via twitter.com
Remember when Kanye went on his 17 point rant about Wiz Khalifa and his cool pants? Somewhere in the cross fire, he insulted his ex-girlfriend Amber Rose, which proved to be a big ol' mistake.

3) When Lady Gaga sang the National Anthem at the Superbowl.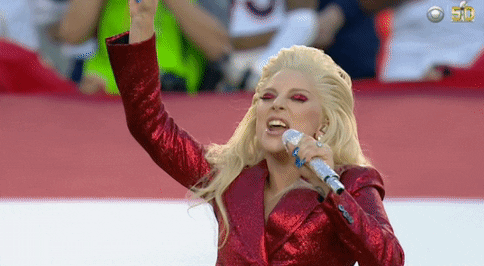 via giphy.com
And in that moment, everyone united for a few seconds for the world's longest "YAAAAAAAASSSSSSS QUEEEEENNNNNN!"

4) Whenever Beyonce manifested before our eyes.
MTV / via giphy.com
From the HBO Lemonade special to the Superbowl, and from the VMAs to her record breaking world tour, wherever Beyonce went in 2016, we all collectively lost our sh*t. Side note: The daughter of Celestine turned 35 this year meaning she is now eligible for the Presidency.

5) When the cast of Friends, sans Matthew Perry, finally reunited.
What a great night. So nice to see the casts of so many great shows who's lives have been touched by Jimmy Burrows. pic.twitter.com/8RafLV3hoI

— Matt LeBlanc (@Matt_LeBlanc) 25 January 2016

FOR F*CK SAKE CHANDLER!
6) When Bernie Sanders became... The Bird Whisperer.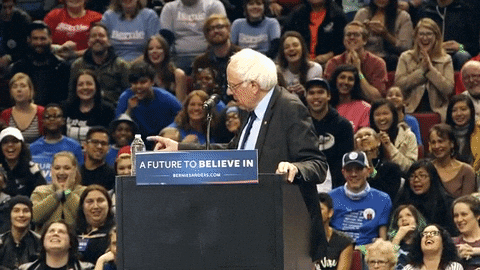 via giphy.com
Look at all those people in the background screaming "YAAAAAAS!"

7) When Carly Rae Jepsen's 'Run Away With Me' took over the meme-scape.
Don't make us say it..............

8) When Hillary Clinton told He Who Must Not Be Named to delete his account.
Delete your account. https://t.co/Oa92sncRQY

— Hillary Clinton (@HillaryClinton) June 9, 2016

Did you ever in your life imagine two Presidential candidates dragging each other on social media? Scalped. Screaming. Gagging. DRAG. HIM.
9) Literally whenever Olly Alexander opened his mouth to speak.
The BEST advice from Olly @yearsandyears: "Shove a rainbow in fear's face" #Pride2016 #Glastonbury2016 https://t.co/X0i6NFBsnP

— BBC Radio 1 (@BBCR1) June 26, 2016

Perfect human rainbow Olly Alexander is a gift to this earth and we must protect him all at costs.
10) When Drake confessed his love for Rihanna on stage at the VMAs.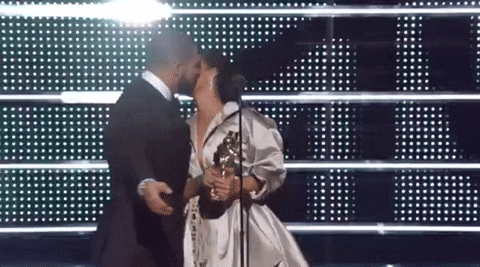 MTV / via giphy.com
We've never screamed YAAAAS so loudly in all our lives. We will go down with this ship.

11) Whenever Eleven was on screen during your binge-watch of Stranger Things.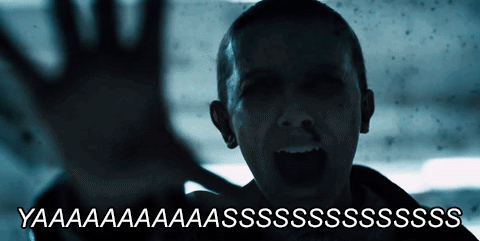 Netflix / via giphy.com
When Stranger Things dropped on Netflix in July, neither you nor we expected it to be a) as good as it was, b) an international hit or c) to fall in love with 5 children who we only just met. Millie Bobby Brown took us to church and back again.

12) When 'Heathens' leaked.
Atlantic / via giphy.com
The Clique might have been about to get sent to jail for the leak of the Suicide Squad soundtrack number but at least they would have all been screaming "YAAASSSSSSSS" while they were dragged into the cell. #WorthIt

13) When Kanye premiered the video for 'Fade' starring Teyana Taylor.
via giphy.com
The best thing Kanye did in 2016 was give us this video and formally introduce the world to the fierce AF Teyana Taylor. Y-A-A-A-S-S.

14) When Ariana Grande confirmed the true meaning to 'Side To Side'.
Jack just explained that the song Side to Side is about getting railed so hard you can't walk. SO MANY EMOTIONZ.

— Lena Dunham (@lenadunham) August 30, 2016

One of the many things Lena Dunham realised this year was the true meaning of 'Side To Side'. Ariana replied to her tweet with four emojis and ended our innocence forever. *whispers a confused yaaaaas..?*
15) When Sarah Paulson finally won her first Emmy.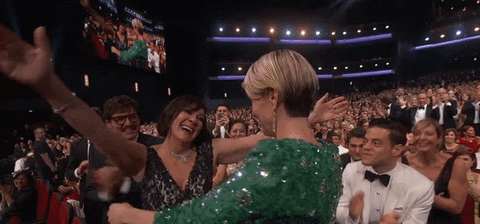 via giphy.com
They did it. They finally gave her an Emmy for her services to on-screen smoking. Can't believe she didn't win for the iconic, scene-stealing "MAAAAAAAAAAAAAAAAAAAAAATT!" though...

16) When Alaska, Detox and Katya gave us the most iconic performance on RuPaul's Drag Race.

Roxxxy my dear, sashay away.

17) When Kim exposed Taylor Swift with the receipts on Snapchat.
Kim leaking Taylor Swift video is my Game of Thrones pic.twitter.com/tIZs1XAMsV

— Ziwe (@ziwe) July 18, 2016

When Kim finally ended Taylor in a multi-platform showdown, bringing the ongoing Swift vs. West lyrical saga of 2016 to a thrilling finale, the entire world erupted into a crescendo of "YAAAS!" in favour of Kris Jenner's favourite daughter.
18) When Harry Styles got a hair cut and donated it to the Little Princess Trust.

*screams YAAAAS through the tears*
19) When Matty Healy wore eye shadow during The 1975's tour.

Y *claps* A *claps* A *claps* A *claps* A *claps* A *claps* A *claps* A *claps* A *claps* A *claps* S *claps* S *claps* S *claps* S!

20) When Troye Sivan helped a fan come out at his show in Washington DC.
@troyesivan THANK YOU SO MUCH FOR READING MY NOTE(I'm the bisexual girl)I LOVE YOU SO MUCH pic.twitter.com/qbUPHjgEwr

— kel (@waltzingsivan) March 8, 2016

Troye Sivan is the human embodiment of "YAS!". Literally.

21) When MUA extraordinaire James Charles was announced as CoverGirls' first Cover Boy.
I can finally announce that I am officially a new @COVERGIRL.First boy ever & I am so excited to see whats coming! #COVERGIRLJames pic.twitter.com/0wVHJYQ9M9

— James Charles (@jamescharles) October 11, 2016

YAAAAAAAASSSS!

22) Zendaya in general...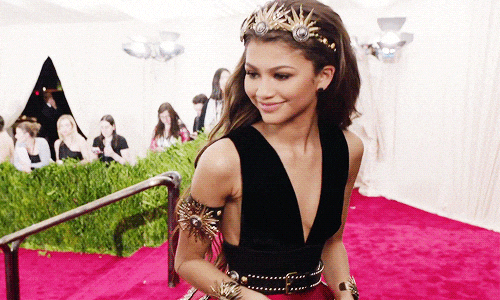 via giphy.com
From her important social commentary to a fierce and flawless attitude - YAAAAAAAASSSS!

23) Tyler Oakley in general...
via giphy.com
For his involvement in the LGBTQ+ community and commentary throughout the sh*t show that was the 2016 Presidental Election - YAAAAAAAASSSS!

24) And of course, when our boy Leo DiCaprio finally got his Oscar.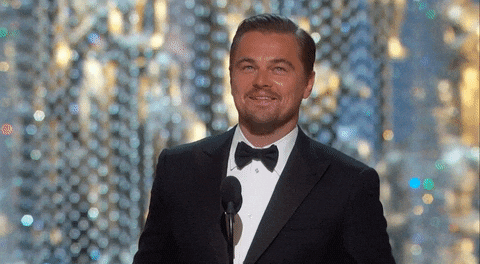 via giphy.com
As we mourned the loss of the world's best meme, we welcomed a new era... that of Academy Award WINNER, Leonardo DiCaprio.

All together now...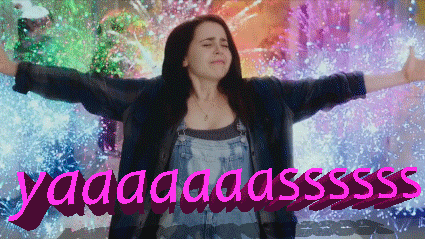 via giphy.com