15 Minor Inconveniences That Always Feel Like The World Is Ending
20 June 2017, 20:51 | Updated: 20 June 2017, 21:01
When you step on a wet patch while wearing socks. FML.
Life is full of minor inconveniences. Most of the time we can get on with life, but sometimes the little stressful moments REALLY get to us.
1) Like when someone eats the food you were saving in the fridge.
via Unsplash
2) Stepping on a wet patch on the floor while wearing socks.
via FOX/Arrested Development
3) Getting all cozy in your bed and then realizing you have to pee.
via E! Entertainment
4) When your bus pulls away just as you are walking up to the bus stop.
via Bridesmaids
5) Not having enough milk left to eat your bowl of cereal.
via Buzzfeed
6) Sitting down to eat your meal but Netflix isn't loading.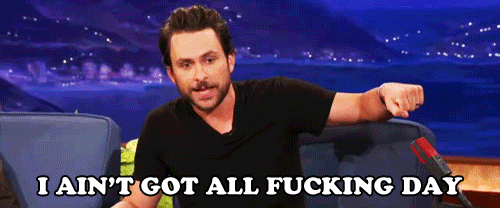 via giphy
7) When the internet is down for more than 120 seconds.
via Beetlejuice
8) Forgetting your umbrella and getting caught in the rain.
via Sherlock
9) Getting locked out of an account for entering the wrong password too many times.
via Bad girls club
10) Having to poop in a public toilet.

via NBC/Community
11) Showing your hairdresser a reference picture and watching in mild irritation as they do something totally different.

via YouTube/@mylifeaseva
12) Having to enter captcha on your phone.
via giphy
13) Running out of phone battery in public.

via giphy/Big Brother
14) Being the first one of your friends to arrive somewhere so now you have to wait for their late asses.
via Warner Brothers/Harry Potter
15) Spending approximately 100 years unraveling your headphones.

via iStock
____ ____ ____ ____ ____