Tinder Is Wrong: Teens SHOULD Be Allowed On Dating Apps
10 June 2016, 13:20 | Updated: 8 May 2017, 17:09
Listen up, ya'll. It's time to get real.
If you're talking dating apps, you're most likely talking Tinder. The app where you swipe users on the screen right or left to match or dismiss them has come under fire in the past for apparently promoting "hook up culture". Now, their newest plan involves raising the cutoff age for users so it becomes an 18+ only app. Sure, it's a band aid to a potential safety issue, but it may not be Tinder's best move.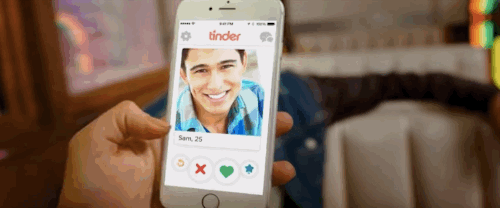 Admittedly, I don't know a lot of 13-17 year olds who use dating apps. Also admittedly, I don't know a lot of 13-17 year olds.
Previously, 13-17 year olds were able to use the app but only had access to other users in their age bracket. Now Tinder is saying that they will no longer offer this option for what they say is less than 3 percent of its user base.
On a platform that has facilitated over 11 billion connections, we have the responsibility of constantly assessing our different user experiences. Consistent with this responsibility,we have decided to discontinue service for under 18 users. We believe this is the best policy moving forward. This change will take effect next week.

Tinder

Here's why this may be a mistake.

Tinder has a perception problem. Last year, Vanity Fair published a damning assessment of the 'sex first' culture which Tinder has become famous for. It's not likely that 13-17 year olds have used the app quite as, um... fervently as their adult counterparts, but this bracket definitely presents a space for the platform to grow. And maybe fix its own reputation.
Now, I'm not saying 13-year-olds should be on Tinder. In fact, I'm saying they definitely SHOULD NOT be on Tinder. But there is a marked difference between a 13-year-old and a 16-year-old.
A 16 year old can drive, hold a steady job, apply for university level courses, travel alone and more. 16 just isn't what it used to be. A Tinder app based safe space for 16-18 year olds where they can meet people their own age, attend Tinder sponsored events and open up their social and romantic lives isn't an inherently harmful concept.
Research shows that a majority of teenagers, 55%, hit their dating stride between roughly 13-15 years old.
The truth is, outside of school and sports, there aren't very many ways for teenagers to meet and socialize in a way that sets them up for the reality of adult friendships and romantic norms. School alone is so insular that it rarely reflects the different types of relationships (platonic and otherwise) that seem almost basic to an adult.
Absolutely, 13, 14, and 15 year olds should be excluded from dating apps. But 16 and 17 year olds are making decisions that will impact the rest of their lives. Where they will attend university, undertake an apprenticeship, and what career they will go into.

There's definitely even a case to be made for 16 and 17-year-olds to be able to vote. You can't give a kid the keys to a car and allow them to drive wherever they want while simultaneously saying they're too immature to use an app. It just doesn't work.
If Tinder worked a little harder, a little more diligently, and thought outside the proverbial box, they would have no problem developing a portion of the app specifically for this increasingly mature age group.
If the (British) government trusts a 16 year old to enlist as a soldier and carry a gun in war, we can trust 16 year olds to make responsible decisions when it comes using an app. Teen dating is going to happen whether there's an app for it or not, why not allow these surprisingly responsible soon-to-be adults make their own judgments?