What's A Super Bowl And How The F*ck Do You Do It?
3 February 2017, 16:36 | Updated: 8 May 2017, 17:09
Let's get ready to football!
This coming Sunday (February 5th) is the 2017 Super Bowl, the 51st (!) annual televised clusterfudge of firework-heavy spectacle, questionable celebrity product tie-ins, diabetes-inducing patriotism and, if you're lucky, a game of football (not soccer, the American kind).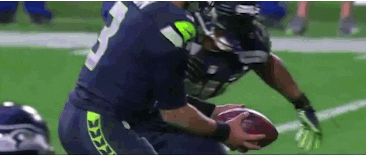 ADRIENNA4PEACE.TUMBLR.COM
And, if you check your cynicism at the door, its incredibly fun. But, for the uninitiated (British) among you, its tough to know exactly where to begin with the various overblown traditions, themed snack foods and endless pauses in play on the field.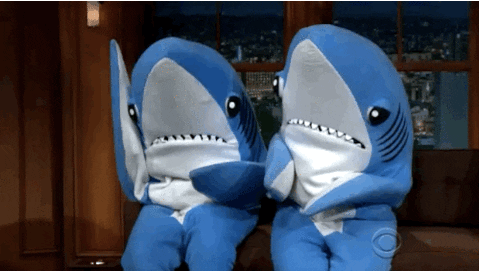 MRPUNK2U.TUMBLR.COM
So, lets take an in-depth look at this outrageous tradition with our PopBuzz beginner's guide to the Superbowl.
1) The Game
GOO.GL
Now, if, like us, you spent more time in drama club than in gym class, here's the basics: The New England Patriots will take on the Atlanta Falcons in Houston's NRG Stadium. The game lasts 60 minutes (well, in theory but it never works out that way), split into quarters of 15 mins each (obvs - they're quarters). During that time, players aim to get the ball from one end of the field to the other to score a touchdown.
They make attempts at getting to the "endzone" over a series of short spurts or "downs" (wow - the terminology really is quite filthy isn't it?). If the player is tackled or "downed" (filth) there is a pause as the team huddle and regroup before attempting another run from their new position on the field. Touchdown is 6 points, Field Goal (kick through the big goal post things) is 3 points.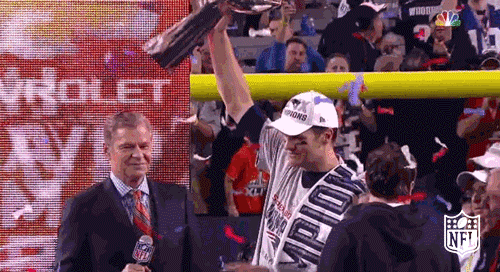 DAILYDOT.TUMBLR.COM
There are loads more rules but that's the general idea and should be enough to stop you p*ssing everyone off with incessant questions.
What To Say: "Oh come on ref, that was never a fumble".
What Not To Say: "Which is the one that's married to Gisele?"
2) The Halftime Show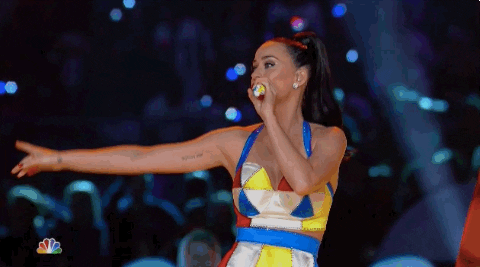 GIPHY
You were probably already going to watch this bit. Now home to the world's biggest stars, the halftime show was originally made up of high school marching bands before evolving into a series of oddly selected, cryptically named themed tributes to anything and everything ("Something Grand", "Happiness Is", "200 Years And Just A Baby: A Tribute To America's Bicentennial", the incredibly strange list goes on).
Then, in 1993, still-reigning King Of Pop Michael Jackson stopped by the Pasadena Superdome to plug his upcoming Dangerous tour, storming the stage with a hits-laden medley, an audience card stunt, a children's choir and an ambitous entrance making use of the entire stadium. PopBuzz
Incredible.
The proceeding years returned to multi-bill lineups and odd tribute shows ("Rockin' Country Sunday", "Tapestry Of Nations", "Indiana Jones And The Temple Of The Forbidden Eye starring Tony Bennet", you can't make this up) until 2004 when Janet Jackson shocked the nation by revealing that she was born with a complete set of nipples and the NFL opted instead for booking MJ-esque star names to play a full, pre-approved set.
Since then we've had the likes of The Rolling Stones, Bruno Mars, Madonna, Prince, Queen B and Katy Perry all deliver ambitious and fun 15 minute mid-game slots (and the Black Eyed Peas but lets try and forget about that).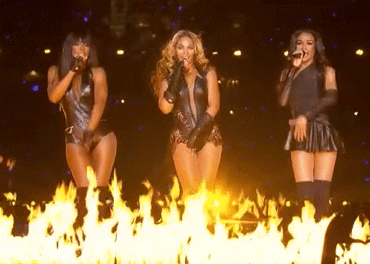 FINDMEINTHEVALLEY.TUMBLR.COM
This year the honour goes to Lady Gaga who will hopefully end the set by flying off into the night on the now customary giant firework.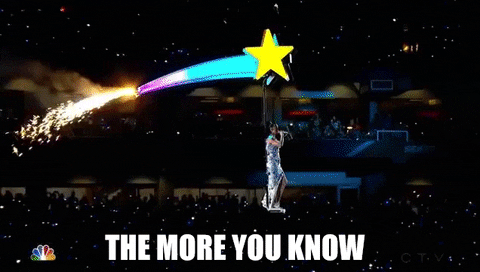 REDDIT
What To Say: "That was even slicker than Springsteen's set back in '09".
What Not To Say: "Is left shark in it again this year?"
3) The Commercials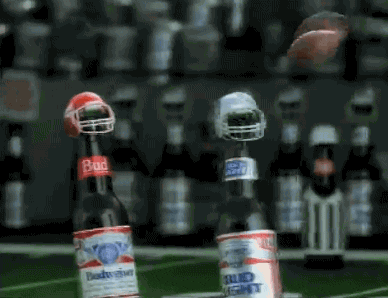 GIPHY
In many ways, this is the main event, at least financially. The game features so many breaks in play that commercials cut in regularly and, with the biggest live viewing figures of the year at their disposal, all manner of brands will spend half the GDP of a developing nation on 20 seconds of airtime, usually featuring a prominent celebrity hawking cellphones.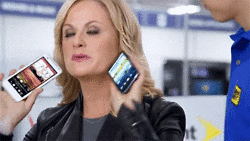 HOLLYWOOD.COM/NEWS
Or they might feature an "ironic" novelty figure from an '80s sitcom hilariously pushing a Grandma into a pool to the tune of Tom Petty's 'Freefallin', emerging from the water transformed into a blonde swimsuit model, nonchalantly grabbing a neon-coloured, glow-in-the-dark diet energy drink and taking a sexy slow-motion sip to camera as the words #GetYourGrandmaOn scroll along the bottom of the screen. Or something.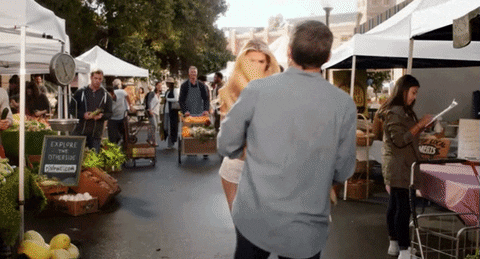 BUSTEDCOVERAGE.COM
(Btw if that idea gets used, I will expect royalties).
Over the last few years, because the internet exists, most of the ads are teased online days in advance so that when they turn up on the TV, we can all point at the screen and say "hey, I've already seen this one! I'm better than the rest of you non social-media savvy fools!".
2016 offerings included Drake managing to parody the already endlessly parodied 'Hotline Bling' to plug, you guessed it, a cell phone.
Although 2017 has already thrown at least one curveball with this topical, immigration-themed Budweiser clip that has already caused quite a stir online.
What To Say: "Those Budweiser Clydesdales get me every time (*sniff*)".
What Not To Say: "Hey guys, do we really need to buy any more stuff?".
4) The Food And Drink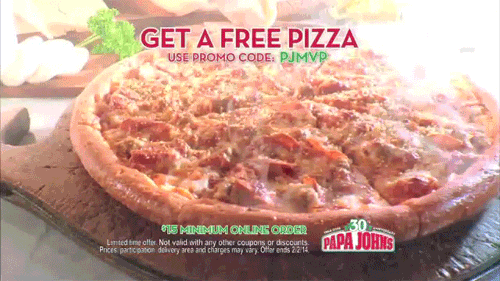 ENJOYTHEBITS.TUMBLR.COM
Traditionally, the Super Bowl is viewed among friends and/or family in a home with a big TV and copious amounts of fatty, salty, sweet, beautiful snack foods. If you can't eat it with your hands, it is not worth serving. Think chips, dips, barbecued meat in soft rolls, sliders (mini burgers UK friends), pizza, popcorn of every variety and ice cream to finish (full fat - none of that frozen yoghurt nonsense).
Have plenty of napkins to hand as sauces will get spilled. Wash the whole affair down with one or twenty Budweisers, kept in a coolbox always at arms-length from your Friends style reclining leather lounge chair.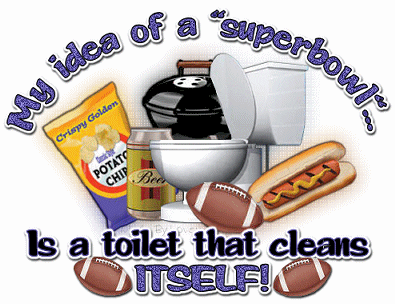 MYSPACEGLITTER.TUMBLR.COM
Amazingly, the culinary delights are such a part of the event that the official NFL site now has a list of recipes you can prepare for the big day with plenty of accompanying mouth-watering photos. Yum.
What To Say: "Please pass the pork!"
What Not To Say: "Got any salad?"
5) The Red, White And Blue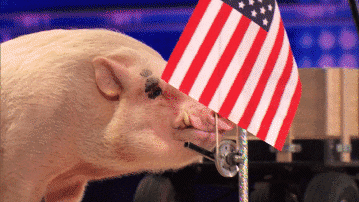 REDDIT
The Super Bowl is America and America is the Super Bowl. It is a football game second and a flag-waving patriotic celebration first. So, grab the stars and stripes face-paint, salute the television and shed a single American tear as you belt your way through the national anthem before Sunday's game.
Don't worry that you don't know all the words - you'll more than make up for it in enthusiasm!
Extra points for Idina-style riffing on the last line.
What To Say: "For the land of the freeeeee!!!"
What Not To Say: "God save our gracious Queen...."
Have fun everybody - we'll catch you at Disney World on Monday!
TUMBLR