10 Times Teenagers Were Rebellious And Amazing In 2016
20 December 2016, 20:52 | Updated: 8 May 2017, 17:09
Sue your school, expose a health hazard, sneak to prom....
Teenagers made huge headlines this year. It seems like every time we turned around, teenagers were bending the rules and making important changes that people twice their age would be scared to try.
In case you needed reminding of some amazing teens, here are a few who bent the rules, made a change, or just did something totally unexpected.

1) There was the amazing story of trans teenager Lily Madigan who sued her school after she was told she could not wear a skirt or use the women's restroom.
After legally changing her name to Lily and starting her life as a woman, Lily faced pushback from teachers and staff at her school. Instead of giving up, the 18-year-old partnered up with a local law firm to inform her school that they were violating her legal rights not to be discriminated against. Lily won, the school backed off, and Lily is now allowed to use the restroom of her choice!

You can literally see the look of awe in her classmates' faces as she perfectly and articulately breaks down the damaging effects of systematic oppression. When people say teenagers don't care about anything, you basically know they're dummies. Teenagers are smart as hell, guys.

3) Non-binary teen, Kaelin Farnish, campaigned to have gender queer paperwork options available for people who don't identify as male or female in the UK...and they won!

After being unable to open a bank account or properly apply for university due to restrictive forms, Kaelin shared their story of being genderqueer but having no corresponding way to convey this in paperwork. A few months later, Metro bank in the UK announced it would be adding 'Mx' (a title many genderqueer folk use) onto their forms! This would have never happened if Kaeliin didn't campaign!
4) This hilariously defiant teenager just wanted to get a point across.
When you're told to change ur shirt before Thanksgiving Dinner so you happily oblige :-) pic.twitter.com/T8pabtK7D8

— jingle becca (@rebamals) November 24, 2016
5) High school student, Hazel Juco, was suspended from school for her majorly heroic act.
The high school senior noticed that the water at her school was yellow. She posted the photo to Facebook and was subsequently suspended for using her phone during school hours. Even though she got in trouble, the suspicious looking water was investigated and the pipes at her school were replaced. Discolored water is a huge health and safety risk and, to top it off, Hazel lives in Michigan, where clean water is A HUGE issue right now.
via tumblr/Aria Watson
Aria was so moved by this last election that she turned in a politically charged photo series for a final project at school. She painted words uttered by Trump onto women's bodies to illustrate the type of person elected to the highest office in the United States.
7) 17-year-old Andrea Seirra Salazar was diagnosed with stage 2 nodular sclerosis Hodgkin's lymphoma and inspired EVERYONE with her princess photoshoot.
Cancer doesn't stop me me from being a princess. pic.twitter.com/39RaDuVwkH

— Andrea Sierra (@sierraandrea99) August 10, 2016
A princess photoshoot may not be your first reaction to losing your hair to chemotherapy. Andrea Salazar didn't allow her cancer treatment to dictate how she felt about herself. Being that she was often too sick to attend school, her mother organized photoshoots with local photographers and Andrea got to show off her beauty and strength as she tackled her illness.
8) These teenagers wanted to go to prom together and didn't let ANYTHING get in their way.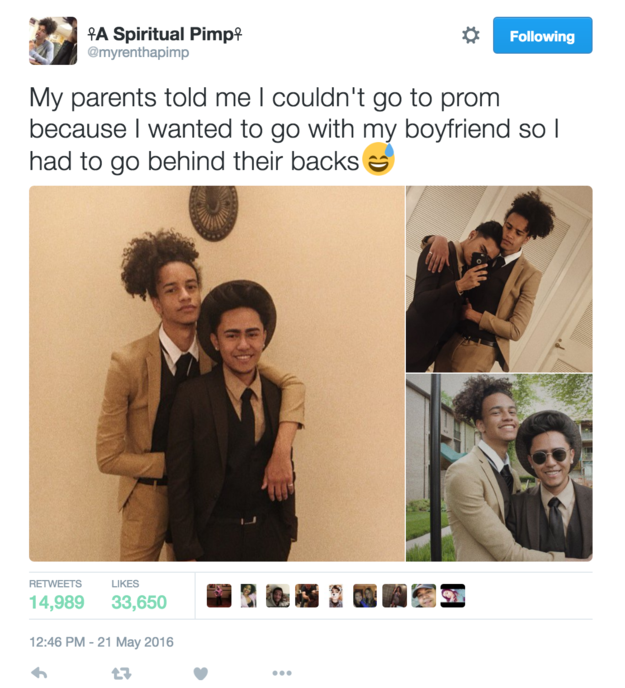 via Buzzfeed

9) Robin got in front of her class, gave this presentation, and received a FRIGGEN standing ovation at the end.
I HAD THESE WHITE KIDS SHOOK pic.twitter.com/z8E3VPlkfF

— robin (@thyrobin) October 21, 2016
Let this be a lesson. You need to keep it 100% at all times, even in academics. There is zero point in sugar coating the truth, fam. If people are scared to hear it, well then SAY. IT. LOUDER.
James was just an ordinary teenager with a love of makeup and a YouTube channel. By chance, he shared his yearbook photo mission to get the perfect yearbook photo. He even brought his own lighting to the photoshoot! The story completely blew up. Fast forward to one Covergirl deal and an Ellen appearance and you could say James is the luckiest makeup lover of 2016.
___ ___ ___ ___ ___
YOU voted and results are in! Who won the Album of the Year at the PopBuzz Fan Awards? Listen to the #PopBuzzPodcast right here or subscribe for free on iTunes to get new episodes sent straight to your phone every Wednesday.