11 Things You Should Know If You're Turning 17 In 2017
30 December 2016, 15:50 | Updated: 8 May 2017, 17:09
It's gonna be a wild ride.
Seventeen is a crucial age. Why do you think there are so many songs about being 17? Because we're your helpful friends, here is (basically) everything you need to know if you're turning 17 in 2017.
1) First of all, it's one more year. 365 days. 525,600 minutes. 31,536,000 seconds. You will have your freedom. 18 is right around the corner.

3) Since you're turning 17 in 2017, you've obviously got a strong connection with the number 17. In numerology, 17 is strongly associated with intelligence, energy, and a desire for change.


4) Most places allow you to get a tattoo at 17. WITH your parent's consent. Better start begging now.

5) Need a mini playlist of good songs about being 17? Here ya go, fam.
Edge of Seventeen - Stevie Nicks
Anthems For A Seventeen Year Old Girl - Broken Social Scene
Marina And The Diamonds - Seventeen
Alessia Cara - Seventeen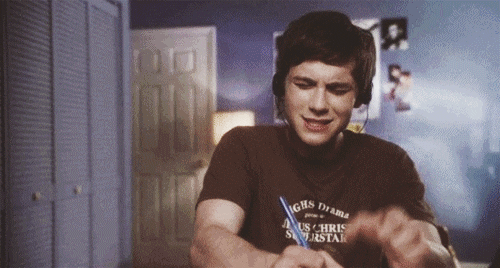 6) Being a 17-year-old activist is something that you can be. Think about it.
7) You're going to be 17 in the actual year 2017. We're done sex shaming please thanks.

8) You can get a piercing without parental consent at the age of 16 in most places. Do what you will with that information.


9) Here's a grilled cheese recipe if you're not yet confident with cooking. (Essential eating for anyone under 25)


10) This is Nick D'Aloisio. When he was 17 he sold his company to Yahoo for $30 million. Nick isn't smarter or better than you. You can do anything.
(Sidenote: Imagine having $30 million at 17. JFC. Pass me 10,000 smirnoff ices)

11) 17 is the perfect age to start investing in yourself.
That doesn't even necessarily mean money-wise. At age 17 you can drive, see the world, go on trips by yourself, invent stuff, create stuff. That's why 2017 is the perfect year to do the creative, amazing things you've had on your mind.
For example, James Charles, aged 17, turned his love of makeup into a deal with Covergirl. Whatever you have in mind, you're in an amazing place and time to make it happen.
via microwhat.tumblr.com
___ ___ ___ ___ ___
YOU voted and results are in! Who won the Album of the Year at the PopBuzz Fan Awards? Listen to the #PopBuzzPodcast right here or subscribe for free on iTunes to get new episodes sent straight to your phone every Wednesday.