17 Accurate AF Tweets You Need To RT Right Now If You're A Halloween Stan
16 August 2017, 12:10
"It's August which starts w an 'au' which means it's autumn which means it's Halloween."
As we all know, Halloween is not just a date or a holiday. It's a state of mind, it's an aesthetic... it's a GOD DAMN lifestyle. At time of publication, there is 76 days until Halloween. That's exactly 1824 hours. 1824 hours for you to plan and source your costume, attempt to make plans with your friends and of course, retweet every single one of these painfully accurate tweets.
1) When Satan decides to you bless you twice in one month.
When you find out that there will be a Friday the 13th in October pic.twitter.com/vhVcO5HByp

— ㅤunapologetic bitch (@unapologetiicb) August 2, 2017
2) Longest, most excruiating wait of your life.
me waiting for Halloween pic.twitter.com/KEMI9H8bnX

— Dory (@Dory) July 7, 2017
3) When the temperature hits below 17 degrees and there's like, one cloud in the sky.
Me: *feels a slight cold breeze outside*

Me: pic.twitter.com/qoAdvsWxEp

— Tweet Like A Girl (@TweetLikeAGirI) August 25, 2016
4) RIP to your bank account.
Me: thinkin about how Halloween decorations are back in stores and the greatest day is only a couple months away pic.twitter.com/CWVGrkRTLj

— Sarah Strange (@StrangerSarah) August 6, 2017
5) YAAAASSSSSSSS BITCHHHHH!
halloween is in less than two months pic.twitter.com/rdLntgArGw

— (@venusmusik) August 15, 2017
6) YAAAASSSSSSSS BITCHHHHH X 2!
2 MORE MONTHS TILL HALLOWEEN pic.twitter.com/vgOMsGDdjX

— BG (@its_branndon) August 3, 2017
7) You all disgust me.
When everyone is enjoying summer and you're just waiting for fall pic.twitter.com/scdNfiFyg4

— HalloweenQueen (@spookymoonkitty) July 21, 2017
8) SISTERRRRRRRS!
I AM SO READY FOR HALLOWEEN ITS AUGUST AND I'M FEELING SPOOKY pic.twitter.com/uBRGCH7td9

— ember (@embermillerr) August 4, 2017
9) Did you know? The 'S' in August also stands for SPOOKY.
me: its august which starts w an 'au' which means it's autumn which means it's halloween LETS GET SPOOKY
p: ....that's not how it works-
me: pic.twitter.com/gByEU6wi6c

— indie (@INDIEWASHERE) August 5, 2017
10) "Do not pity the dead, Harry. Pity the living. And above all, pity those who believe Halloween is only for one day."
you, a poser: i can't wait for halloween
me, the Pumpkin King: halloween is a lifestyle. i wake up every day and it's halloween.

— chunky jazz (@NECROMANClNG) August 7, 2017
11) Never leave me again.
When all the Halloween decorations start popping up in the stores pic.twitter.com/kGWejMAo80

— lauren (@autumndarlingg) July 22, 2017
12) IF YOU'RE GONNA DO IT, YOU MAY AS WELL MAKE IT COUNT.
THERE'S A FRIDAY THE 13TH ON OCTOBER THIS YEAR AND IF I DON'T GET VIOLENTLY MURDERED THEN WHAT'S THE POINT

— (@stylesfilm) August 5, 2017
13) You: Sun! Sea! Flamingo pool floats! Me, an intellectual: Scarves! Sweaters! Witchcraft! Death!
When it's mid July and all you can think about is Halloween pic.twitter.com/bUJV9otfYM

— HalloweenQueen (@spookymoonkitty) July 18, 2017
14) YOU RANG?!
me whenever someone mentions halloween pic.twitter.com/2pcpaiQQao

— ghost (@lunarybabe) August 26, 2016
15) You as a baby.
me from the middle of August until Halloween https://t.co/9Dl7lyu4hm

— FREDDY (@FreddyAmazin) August 25, 2016
16) *cackles*
*sees 1 Halloween store that's not even open yet*
me: pic.twitter.com/xXvVIJsDS8

— Dory (@Dory) August 26, 2016
17) Well, damn. You got me.
when u watching everyone make super lit Halloween plans and it's your fave holiday but u still don't got plans pic.twitter.com/pxQEFObL2Y

— FREDDY (@FreddyAmazin) October 14, 2016
GET HYPED!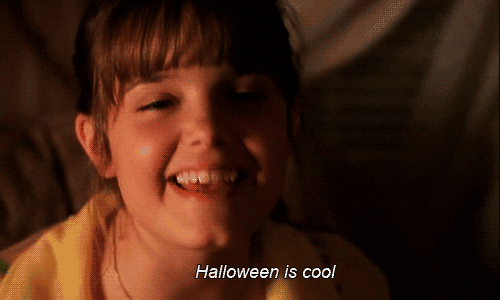 Disney Channel