6 Flawless Girl Crushes We Couldn't Get Over In 2015
9 December 2015, 17:24 | Updated: 8 May 2017, 17:09
Crushing hard y'all!
We all love a girl crush, don't we? From the badasses to the BAEs, we've all got one. 2015 supplied us with so many awe-inspiring, confident, gorgeous females we literally couldn't even pick our favourite. Have no fear, we managed to narrow it down to 6 of the most flawless ladies that managed to capture our hearts this year. Here are our ultimate girl crushes of 2015... Let us know if we forgot your fave!
Halsey

From her INCREDIBLE HAIR to her debut album Badlands, Halsey legit made us fall in love in 2015. She's doing it for all the alternative girls out there and making us all feel like we can do ANYTHING in return. She's honest, open about her sexuality and more recently, her battle with Bipolar Disorder. All of that and we haven't even mentioned those damn dimples yet... UGH! Please insert 75 Heart Eye Emojis and lay us to rest.
I just like to be the in-between role model—the one I didn't have growing up.

Halsey, ELLE Magazine
Emma Watson
Yeah yeah yeah, so you've loved Emma Watson since 2001... WE HEAR YA! But this year, Queen Watson has destroyed the entire world with her intelligence and passion for equality. She became the face of the 'This Is What A Feminist Looks Like' campaign, launched the HeForShe movement and even spoke at the UN about equality. Crushing hard on this lady this year and every year. Our love only grows stronger.
Don't let anyone tell you what you can or cannot do, or cannot achieve. Do not allow it.

Emma Watson
Karlie Kloss
For those that don't know, there's more to Karlie Kloss than Runways and Taylor Swift videos... even though Knockout was an absolute BABE. This year Karlie created a scholarship for girls who want to get involved in tech called #KodeWithKarlie so she basically might end up being responsible for girls taking over the world and we're here to say we loved her first! She also became an entrepreneur by creating a health-conscious and philanthropic line of baked goods. Actually in love.
I think it's crucial that young women learn to code as early as possible to ensure that we as young women have a voice and a stake in what the world looks like.

Karlie Kloss, TIME
Amy Schumer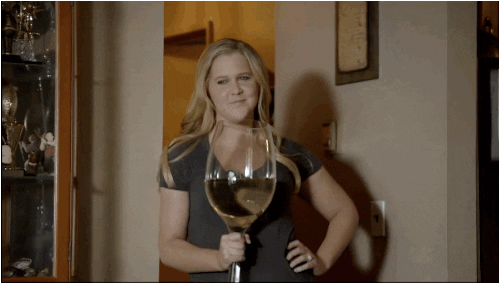 2015 has truly been the Year of Schumer. From the second the 'Last F*ckable Day' sketch on Inside Amy Schumer aired, we fell in love. Amy sort of, maybe, definitely became our favourite Amy in 2015 (no one tell Poehler we said that...). Her courageous 'trip' on the Time 100 Gala red carpet in front of Kimye was inspired and her debut film Trainwreck only made us crush harder. But it was her confident appearance in the Pirelli Calendar that might have just made Amy Schumz out #1 girl crush of the year.
Don't feel bad for me. I think I'm, like, so pretty.

Amy Schumer
Natalie Dormer
We'd be lying if we said this one wasn't just a straight up obsession. Natalie stole the spotlight as the badass Cressida in The Hunger Games: Mockingjay Part 2 with that KILLER shaved head and she still turns us all into a pile of dust with that chilly side eye on Game Of Thrones but honestly, we're here for that goofy personality off camera. That's the only reason. That and the eyebrow. We belong to that eyebrow now.
It's always been a joke to a lot of my friends that I play these cool femme fatales who look like they could take over the world with their little finger. I'm not really that, it's fair to say!

Natalie Dormer, Guardian
Ruby Rose
HELLO RUBY ROSE! Ruby's Transition Video had been flying around the internet since mid-2014 so it was only a matter of time before she infiltrated our mainstream hearts. She joined the cast of Orange Is The New Black as sassy Stella Carlin and y'all... we had to say our prayers! Her big moment came when she hosted the EMAs in October after which she became more than just a #WCW to the world - more like Woman Crush EVERYDAY.
It gets better. No one should be given the power to make me feel less than; I am good enough.

Ruby Rose, After Ellen
PopBuzz HQ right now...