Real Talk: Going To College Without Your School Friends Is The Best Thing You'll Ever Do
18 May 2017, 17:00 | Updated: 18 May 2017, 17:04
For those graduating high school this summer, it may be time to pull a 1D-style hiatus before uni hits.
Greetings, class of 2017, and welcome to the PopBuzz commencement address.
As graduation season arrives once again, young students worldwide are frantically planning that next big step in their lives - the move to college. What's the perfect subject? Which city has the best nightlife? If you throw a graduation cap up in the air and it accidentally hits you in the eye on the way back down, will it draw blood? (ANSWERS - Music, Manchester and yes, I've seen it happen so be careful).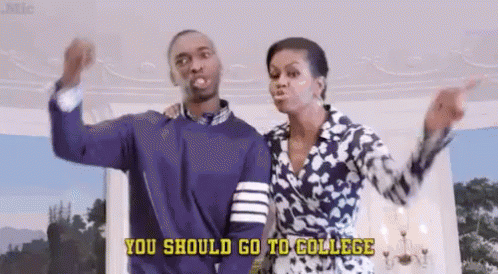 Funny Or Die
But for many, this time is also full of sorrow, anxiety and even nostalgia as you realise that the friends you have grown up with in your hometown will soon be gone, spread out across the country, only available for brief drunken reunions at Christmas.
You may be tempted to just stay near home, or apply to the same college en masse, maybe finding a house together off campus or shack up in a loft and pretend you're in New Girl, just as long as you can all stay together as one happy, carefree unit.
Guys, don't be fooled. It may seem hard now but leaving your friends behind for college is the smartest move you can possibly make.
NBC, Sony
At age 18, I saw many friends and classmates gather in packs to attend the same local colleges and unis. Even those who ventured further afield would seek out anyone who might have at one point walked vaguely near their high school in the hope of some kind of connection. Over summer vacations, you would see these clans return to my hometown of Edinburgh, unchanged by their college experiences, stuck in the same mindset, in the same clothes, sat necking cheap wine on the same park benches, dancing to the same cheesy dance anthems on the same sticky floored nightclubs now occupied with final year school students looking at them with disdain and puzzled looks as if to say "aren't you too old for this sh*t?".
And you know what, if that's your decision, then fine. Today, though we have long since lost any personal contact, they will occasionally pop up on my Facebook feed, brandishing cocktails with other familiar faces. Some are even now engaged to their prom dates. Good for them. They seem content, happy even. But I can't help feeling that they may have missed out on the most important element of the college experience - change. Because while some of these people were fully assured in their decision to keep their friends close as they left their high school cocoon, others, by their own admission, did so out of fear. Understandable? Sure.
But let's be clear on this - EVERYONE gets scared when they go to college.
NBC, SNL
I arrived to my Fresher's Week in Manchester alone and instantly thrown into awkward social situations with people far more confident and worldly than myself. It was intimidating to say the least but, as my parents repeatedly told me, being pushed out of my comfort zone would be "character building". Irritatingly, they were correct.
My best friends today were all made in that first year of University halls, formed through conversations over terrible canteen food and a shared hatred of our Resident Advisor who hated smoking, drinking, music, TV, loud breathing and anything remotely fun. New experiences were shared ones and, with no in jokes or childhood bonds to fall back on, it was an even playing field for all as our nerves began to crumble.
So, high school graduating class of 2017, I would just like to offer you one simple piece of advice as you move forward in the next step of your lives - be like One Direction.
SYCO
See you and your friends all started as a group, and you have a whole lot of history, no doubting that. But, while there are many little things you love about them, in a college environment you may all just drag each other down. So, it's time to all go solo, but don't think of it as splitting up but as more of a 'hiatus'. And hey, if that hiatus never actually comes to an end, that's ok too. Because whether you stay in this town or just hold on until an offer further away appears, it doesn't change the impact and importance of what went before. People grow and develop in unexpected ways, that's all, just like how fast the night changes or how two dogs can learn to drive a car across an iced over pond. It's just a sign of the times. In short, don't be afraid, climb on board and, most of all, if you feel scared at any point, just grab hold of whatever is troubling you and strip that down. You won't regret it because, as we all know, we need to live while we're young.
Go on - take a chonce.
SYCO
____ ____ ____ ____ ____
Listen to the #PopBuzzPodcast with Hey Violet right here or subscribe for free on iTunes to get new episodes sent straight to your phone every Friday.