#HisNameIsAlex trends on TikTok after a mother humiliated her trans son in shocking video
18 August 2020, 15:07 | Updated: 3 November 2020, 10:59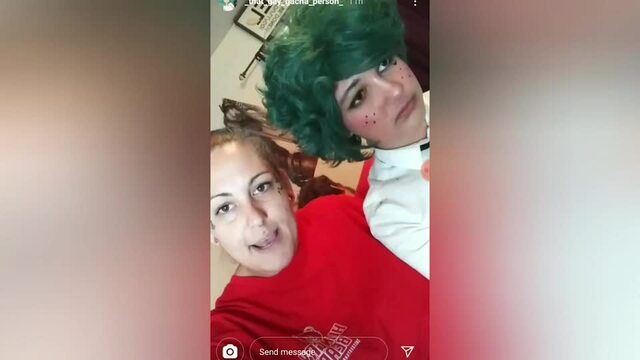 #HisNameIsAlex goes viral after mum shuts down transgender teens TikTok account
Everyone has come out in full support of a transgender creator who had his account taken over and deleted by his unsupportive mum.
The hashtag #HisNameIsAlex has gone viral on TikTok after a transgender content creator was deadnamed and repeatedly misgendered by his own mother on his TikTok and Instagram accounts.
Alex, who is known on social media for his cosplaying and love of anime, had disturbing videos posted to his Instagram and TikTok accounts by his mum, demanding that followers call him by the name she gave him at birth, otherwise known as deadnaming, and repeatedly and deliberately uses the wrong gender pronouns.
To many transgender people who have chosen to change their names to match the gender they identify with, this can be very hurtful and damaging, as well as bringing up a lot of bad memories.
READ MORE: Instagram to ban accounts promoting LGBTQ+ conversion therapy
In the video, his mum, known only as 'Tasha' tells his followers to address him by his deadname "or you will not address" him at all. "If you cannot follow her mother's instructions, you will be removed out of [his] life", she continued.
Alex can be seen in the clip looking distraught and upset by his Mum's tone.
See the censored version here:
#HISNAMEISALEX

please stop sharing the uncensored video of this abusive, transphobic mother sharing her child's deadname to all of his followers

please amplify HIS name, ALEX. not his deadname

this is censored. use this please. keep saying HIS name. thank you. pic.twitter.com/dIr537daUt

— venustas | bIm (@lovevenustas) August 16, 2020
Since the clip went viral, both friends of Alex and people who have never met him before the incident have rallied around to show their support and solidarity by getting #HisNameIsAlex trending on the platform.
One supporter of Alex's cause, Gabby Jackson, even managed to secure over 150,000 signatures on a petition she launched to expose the "abusive behaviour" that Tasha was subjecting her child to.
Creators and other members of the LGBTQ+ community also sleuthed their way into finding out where Tasha worked, and reported her misconduct. The restaurant, where she worked as a cook, then fired her, and have since plastered their social media channels with pro-pride imagery in support of Alex.
Tasha has since deleted all of Alex's social media accounts, making it even more important for us to amplify his voice. However, according to the petition, Child Protective Services are now involved in the situation, and Alex is in safety. We think it's fair to say he's also made a lot of new friends and supporters this week.