Kamala Harris is being praised for including her gender pronouns in her social bios
9 November 2020, 17:31 | Updated: 9 November 2020, 17:36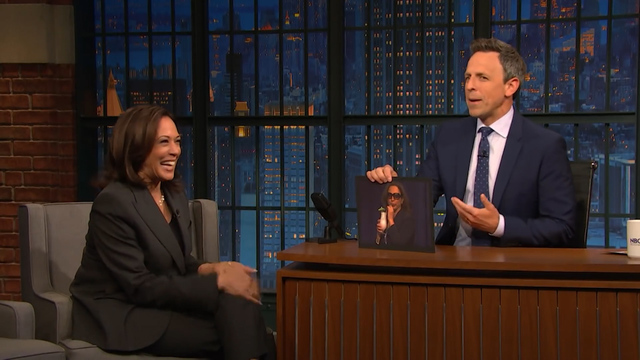 Sen. Kamala Harris on Maya Rudolph's impersonation of her
"Vice President-Elect of the United States. Senator, Wife, Momala, Auntie. Fighting for the people. She/her."
Vice president-elect Kamala Harris is being praised on social media after supporters noticed that she had included her gender pronouns in her Twitter bio.
Joe Biden and Kamala Harris swept to victory on Saturday (Nov 7), with impromptu street parties and celebrations reported all over the country and on social media.
That's when users noticed Harris' Twitter bio, which now reads: "Vice President-Elect of the United States. Senator, Wife, Momala, Auntie. Fighting for the people. She/her." At the time of writing, Harris has 10.9 million followers (Nov 9).
The inclusion on her pronouns is seen by many as an act of solidarity with the trans community and non-binary and gender nonconforming people, bringing with it fresh hope of a reversal of the oppressive policies brought in by Trump against trans people during his 4 years in office. But not everyone agrees on Harris' record.
READ MORE: Joe Biden's new hat appears to perfectly troll Trump's MAGA slogan
Why should you put gender pronouns in your social media bio?
There are several reasons why individuals choose to include their pronouns. The most obvious reason is that it helps avoid misgendering, which can be upsetting whether you're cisgender or not.
As PinkNews reports, it's been proven that using the correct name and pronouns for trans people can reduce their rates of anxiety, depression and suicidal thoughts to almost the same levels as their cisgender counterparts.
While sharing pronouns might often be associated with trans, non-binary and gender nonconforming people, it is important for cis people to share their pronouns too, as it helps normalise the conversation around pronouns, which makes trans and non-binary people feel safer and more welcome. It takes the onus away from trans people and shares the responsibility with everyone.
Including your pronouns can also be a great way to encourage people to learn about gender and gender inclusivity. Writing 'she/her' in your bio might just make a person think twice and start their own research and education around gender.
People were living for the Twitter bio.
i know it's not GROUNDBREAKING for kamala harris to put her pronouns in her bio but it will help normalize it for sure

— lily ᴴ ☮︎ ♡︎ (@moonagehs) November 7, 2020
Beyond pronouns, Harris' record on trans issues is a little more complicated.
As them. reported, her record on the rights of sex workers, the trans community, and the overlap of both, have been criticised by many. She has also been criticised for incarcerating trans women in male prisons and denying a transgender woman who was incarcerated gender-affirming health care.
President-elect Joe Biden was also praised for including trans people in his victory speech.
Addressing the crowd in his hometown of Wilmington, Delaware, on Saturday night (Nov 7) the new president-elect said:
"I am proud of the campaign we built and ran. I am proud of the coalition we put together, the broadest and most diverse coalition in history.
"Democrats, Republicans, independents. Progressives, moderates, conservatives. Young, old. Urban, suburban, and rural. Gay, straight, transgender. White. Latino. Asian. Native American."
What do we love to see? It.
He said "gay, straight, transgender." He thanked educators, poll workers. He called out systemic racial injustice. He spoke after the Vice President elect. He has a plan for the pandemic.

It is tragic that all of this is so exceptional after four years. But he's doing great.

— pfpicardi (@pfpicardi) November 8, 2020
Joe Biden specifically recognizing trans folks after living under a dictatorship that's been trying to dehumanize and destroy us for 4 years is hitting hard.

— Aiden Thomas 🌈👻 (@aidenschmaiden) November 8, 2020
Joe Biden just said trans rights

Joe Biden just said gay rights

Joe Biden just said black rights

Joe Biden just said women's rights

— Angel (@angel_damore) November 8, 2020
This is the first time a presidential election victory speech has specifically mentioned the word "transgender" and made a commitment to us.

Joe Biden has got our back.

— Charlotte Clymer 🏳️‍🌈 (@cmclymer) November 8, 2020