Bella Thorne Came Out As Bisexual And Now It's Impacting Her Career
14 October 2016, 16:30 | Updated: 19 November 2018, 14:15
"It's hard in this business for us."
Bella Thorne's decision to open up about her bisexuality has definitely earned her the respect of her similarly aged fans. Finding out the nuances of sexuality is something that so many teens experience so, a public figure like Bella being honest with her fans in this way definitely resonates.
Unfortunately, not everyone sees Bella's openness and candor as an asset. Just ask the industry people who told Bella her image was too "out there" to work with.
It is hard in this business for us. It really is [...] And it comes from people in the industry, not even fans. I've had studios tell me my image is too 'out there,' hinting at it but not really saying it.

Bella Thorne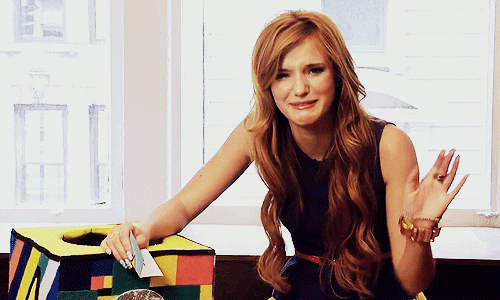 We're guessing that's subliminal speak for, 'we'd like a more prim and proper person for this role, please'.
Bella is super talented so we can't exactly imagine people not lining up to work with her, but this does highlight the type of issues LGBTQ+ individuals face when going toe to toe with big name commercial entities.
Bella has spoken in the past about how her work on the Disney Channel made her alter who she really was. Now, we can only imagine that she is done changing her personality just to work on certain projects.
Bella also admits that her social media image gets scrutinized all the time. "People tell me all the time about my social media and my Snapchat, but I'm not going to change myself for this business."
Despite being told her social media image is "too out there", it doesn't seem like that has stopped Bella at all. She posts about her body, her upcoming projects, Tyler Posey, and all the other stuff going on in her life.
Honestly, Hollywood has such insane double standards for women that we're not surprised that a woman who identifies as bisexual would receive this kind of backlash for being herself.
Bella, you do you, girl! We're LIVING for your 'no f*cks given in 2016' vibe.
___ ___ ___ ___ ___
Listen to this week's #PopBuzzPodcast featuring the flawless Dua Lipa right here on Soundcloud, or download from iTunes, AudioBoom or TuneIn to catch up with all the previous episodes!