Petition demanding justice for Elijah McClain reaches 2.5 million signatures
25 June 2020, 11:30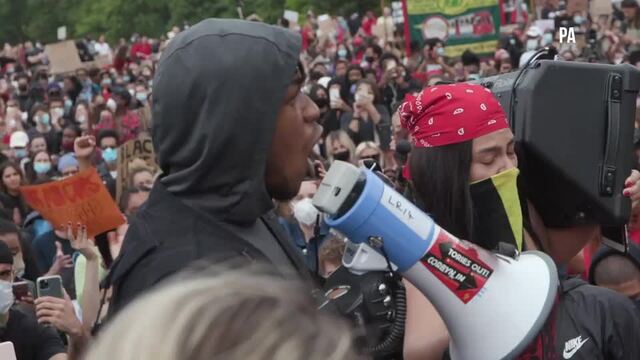 John Boyega delivers powerful Black Lives Matter speech at London protest
The petition is calling for the officers to be taken off duty and an in-depth investigation into what happened. T/W: Police brutality.
A petition calling for justice for 23-year-old Elijah McClain, who died on his way home from buying tea at a local convenience store after he was placed in a chokehold and injected with ketamine while being arrested by police officers, has now reached a 2.6 million signatures. Click here to sign the petition.
Elijah died on August 24th 2019, and is one of several cases that are receiving renewed attention following the murders of George Floyd, Breonna Taylor, and other Black Americans.
According to the petition, Elijah was walking home after buying some tea at a local convenience store. According to Elijah's family, Elijah, who was anaemic, preferred to wear a ski mask to keep his face warm while he was walking. The Aurora Police Department received a call of a "suspicious man" in a ski mask who was "acting weird" by "waving his arms around."
READ MORE: #JusticeForToyin starts trending after death of activist Oluwatoyin "Toyin" Salau
Buzzfeed News reports that the officers stopped McClain, told him he was "being suspicious," and attempted to pat him down. Body camera footage shows McClain frantically asked police to let him go and one of the three officers accused him of reaching for another officer's gun. One of the officers then placed McClain in a chokehold. McClain passed out in the hold, prompting the officers to call for medical assistance.
Paramedics arrived on the scene and injected McClain with ketamine to sedate him. The body cam footage shows McClain begged for his life as he cried, struggled for air, and vomited in the chokehold, repeatedly telling police that he couldn't breathe.
Soon after the ketamine injection, paramedics noticed that McClain was no longer breathing. He was transported to a nearby hospital, where he died three days later on Aug. 27, at 23-years-old from a heart attack. According to the local paper, The Sentinel, after being place on administrative leave immediately after their interaction with McClain, the officers at the scene will not face any criminal charges and have returned to work.
Now, prominent politicians, activists and celebrities are calling for justice for Elijah.
Last year, Elijah McClain was just walking home from the convenience store when he was put in a now-banned hold by police officers and later died. Elijah McClain was 23 years old. Elijah McClain should be alive today, and his family deserves justice.https://t.co/hbeEABxxDZ

— Elizabeth Warren (@ewarren) June 24, 2020
23-year-old Elijah McClain was walking home from the convenience store, where he got ice tea for his brother, when he was killed by police. Why? Simply for wearing a ski mask because he was anemic. Elijah was a good man. pic.twitter.com/uSlywgP7rd

— Martin Luther King III (@OfficialMLK3) June 25, 2020
please look into this case and sign the petition (linked in thread of the original post) and/or donate to his family's gofundme, which i will repost under this tweet.

the cops who murdered #ELIJAHMCCLAIN are still cops. https://t.co/bRBMVNydsv

— hayley from Paramore 🌺 (@yelyahwilliams) June 24, 2020
Elijah McClain's story.... really has me... I don't even know what to say. 23 years old. Minding his business walking with some iced tea. 3 cops whose bodycams conveniently fall and offer no evidence, murder him. https://t.co/XoqPP9o13w

— roxane gay (@rgay) June 24, 2020
please sign this petition for #ElijahMcClain . the cops who murdered him were never charged and never fired. we need a new, independant investigation into his death. through us, justice can be served. link to donate to is in my instagram bio. https://t.co/yjxuyBCdJk

— Dove Cameron (@DoveCameron) June 25, 2020
District Attorney Dave Young, who announced that no criminal charges would be brought against the officers or medics involved in the arrest, has said he does not intend to re-examine the case, The Sentinel reported. Let's hope that when the petition reaches its target of 3 million signatures, he will be forced to reopen the case.
READ MORE: Black Trans Lives Matter march this weekend in London: here's everything you need to know