There's A Massive "Photoshop Fail" On This Vogue Cover... Can You Spot It?
10 February 2017, 11:53 | Updated: 8 May 2017, 17:09
The internet is calling them out on it...
Don't you just love a good photoshop scandal? We're still not quite over Ally from Fifth Harmony's two right feet fiasco. And Selena Gomez' recent episode with the photoshopping of the flicks in her hair (don't ask, we don't understand either.)
Today, we bring you yet ANOTHER high profile photoshop mess courtesy of fashion bible Vogue. It's a gorgeous photo, everyone is serving face... not sure why they're wearing turtlenecks on the beach but that's a different conversation.
However, there's a big ol' photoshop mistake in it... can you spot it?
It's pretty hard to see, but maybe if we just zoom a little bit...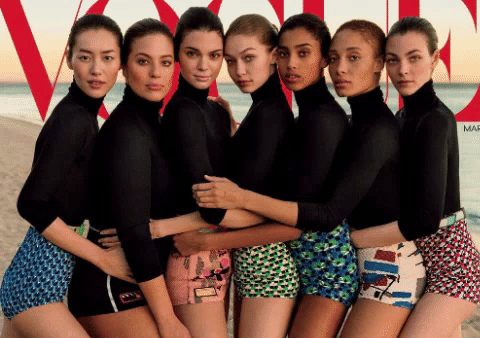 Vogue Magazine
Why does it look like Gigi's arm is twice the length!?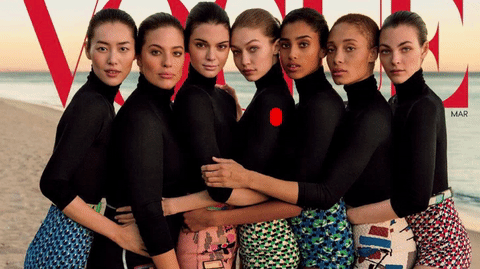 Vogue Magazine
Some say it's photoshop, although if you lighten the picture it actually might just be an illusion thanks to those black turtlenecks. Then again, if her wrist starts just before Ashley Graham's arm, surely they must have elongated her fingers, right? Gigi's hands aren't that long!
It's not just the arm that has people talking about this cover either, by the way. According to this latest issue, the cover is meant to celebrate diversity. Vogue hired the gorgeous Ashley Graham to appear on the cover alongside equally gorgey and very diverse Kendall and Gigi, who star front and centre. But people think that the extension of Gigi's arm was purposefully done to minimise the size of Ashley Graham's waist.
And the internet is calling them out for it.
Woah woah... This #VogueCover ... photoshop gone wrong (Gigi's hand), trying to make Ashely look thinner (only one with hand down) & more pic.twitter.com/BsgDjrPlA8

— Madison Brodsky (@BrodskyMadison) February 8, 2017
WHAT DID YOU DO TO GIGI'S HAND @voguemagazine pic.twitter.com/NREsBqwIKJ

— Brooke-Ashley (@BrookeAshleyP) February 9, 2017
@KendallJenner awful photoshop of Gigi's arm and Ashley having to put her arm down to make her leg seem 'slimmer'. #stopthebullshit

— Olivia Louise (@Jellybean3rd) February 8, 2017
They made Gigi arm look like the inflatable outside a car dealership just to cover Ashley. Smh pic.twitter.com/2jB4C7Y1PC

— Myleeza (@MyleezaKardash) February 9, 2017
I'm disappointed @voguemagazine. Ashley's curvy sexy body is covered and Gigi's hand/arm is long af (aka photoshop fail) #Voguemagazine pic.twitter.com/pcALIpYv3H

— Kristen Marlene A. (@kristenmarlenee) February 9, 2017
Ashley Graham did however comment on the placement of her arm across her thigh, saying on Instagram that it was her choice to pose like that but there's been no word from Geej about the sudden growth spurt in her forearm just yet. Maybe she was born with it, maybe it's Adobe Photoshop?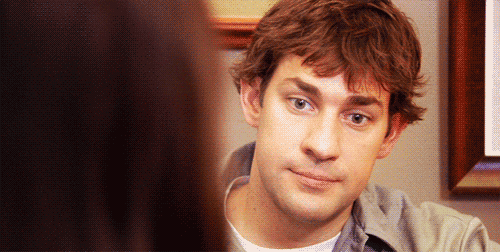 NBC / via giphy.com