This Teen Turned Down A Place At Brown University For The Most Pathetic Reason
This is going to make you very angry.
You know how some people get really aggravated about the smallest, most unimportant of things? Well, brace yourself, because we might have just found the worst of them.
In the greatest example of pedantry the world has ever known, a cis-gendered female student turned down a place at the prestigious Brown University in America because the university used non-gender specific pronouns in their communication with her.
Giphy
Yep.
As reported by The Tab, Wall Street Journal editor and FOX News contributor James Freeman wrote an op-ed about a reader's daughter who had been accepted to Brown. No small achievement considering the university announced that this year was the most competitive applicant pool yet.
However, the student and her father were confused to receive a letter sent from Brown's Dean of Admissions, Logan Powell, which used they/them pronouns to refer to the student. They decided it must have been a "word-processing error" until they received a voicemail that also referred to the student as they/them. And that's when her father decided enough was enough.
Writing on the Wall Street Journal opinion section, he wrote: "'Mind you, our daughter has always been clear what her biological gender and identity is — she's a woman.' He believes the school "wants to make it clear that only left wing extremists are welcome at Brown. Fine with us — good riddance.'"
There is so much wrong with this it actually makes our head hurt. Firstly, there is obvious lack of understanding about the difference between 'sex' and 'gender'. But then there's the sheer lunacy of thinking including they/them pronouns is an "extreme" action. How fragile do you have to be to find that extreme? Lastly, imagine how many people would kill to get into Brown? The idea that you could throw it away for such a stupid reason just reeks of privilege. *rolls eyes for infinity*
The funny thing is, they didn't bother to correct the university on the preferred pronoun. Instead of requesting a change in pronoun, they decided it just wasn't worth going to Brown. The WSJ wrote that Brown spokesman Brian Clark said in an email that the university administration typically uses gender-inclusive they/them pronouns in admissions communications.
Let's hope the whole episode leads to them finding some sort of enlightenment on gender issues. And props to Brown for sticking to their "extreme" and inclusive communications, long may it continue.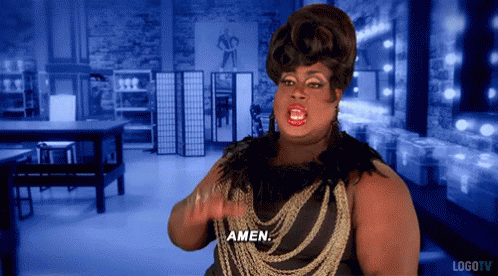 Giphy