This Grandma Has Been Accidentally Praying To A "Lord Of The Rings" Toy
6 January 2017, 15:51 | Updated: 8 May 2017, 17:09
One Brazilian woman managed to confuse an elf with Saint Anthony. As you do...
A great grandmother in Brazil has spent years mistakenly praying to a Lord Of The Rings action figure that she thought was a model of Saint Anthony. We've all been there haven't we...
Gabriela Brandão, a freelance makeup artist from Florianópolis, discovered that her daughter's great-grandmother devoutly prays to this tiny figurine every day, posting pics straight to Facebook.
Those captions translate as "My daughter's great-grandmother prays to this figure of Saint Anthony every day...But looking more closely…". Incredible scenes.
After some searching, Gabriela discovered that the figure was of the elf character of Elrond from The Lord Of The Rings trilogy.
You know, this guy.
New Line Cinema
Don't think the Saint's ears were quite that pointy...
Gabriela told Buzzfeed about how they gently broke the news to the doll's proud owner:
We tried to explain right away but she didn't understand at first. The next day we explained again and she understood and we got her a new figure of Saint Anthony. I never expected any of this to happen, it's crazy. But it's the funniest thing that ever happened to me.
The story has gone viral in Brazil with over 3000 shares and large amount of LOTR fans in the comments sending their undying love and praise to Elrond. Because why not?
Congrats on the new doll Grandma - keep doing you!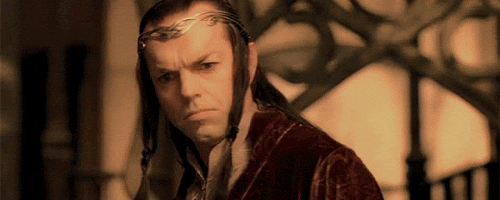 New Line Cinema
___ ___ ___ ___ ___
From Brendon Urie to The Vamps, here are the best bits from the #PopBuzzPodcast in 2016. Listen right here or subscribe for free on iTunes to get new episodes sent straight to your phone every Wednesday.