Students Left Feeling "Terrified" After 70 Classmates Throw Up Nazi Salute And Chant "Heil Hitler"
3 February 2017, 12:32 | Updated: 8 May 2017, 17:09
"None of the teachers even said anything."
If ever there was a time to buckle down and reject racism and Antisemitism, it is definitely now. A group of Texas high school students may need some reminding of what decency looks like after a "silly photo" of them throwing up the nazi salute has gone viral online.
One student told KPRC news that they recalled feeling terrified after approximately 70 of their classmates at Cypress Ranch High School threw up the nazi salute during a class photo.
The students were taking their senior photos when a couple of young ladies made a "black power" fist. In response, a large group of boys began doing the nazi salute and chanting "heil Hitler".
this is happening at my siblings' middle and high schools in houston. pic.twitter.com/t7ab0RKuQI

— louis "louis" louis (@louismccorgilee) January 31, 2017

According to the screenshotted conversation above, teachers apparently did nothing to stop the students from displaying these highly offensive gestures.
teachers @ cypress ranch high school, houston allowed seniors to throw nazi salute "hail trump" in class pic. these are not educators

— mobiustrip (@bend_time) February 2, 2017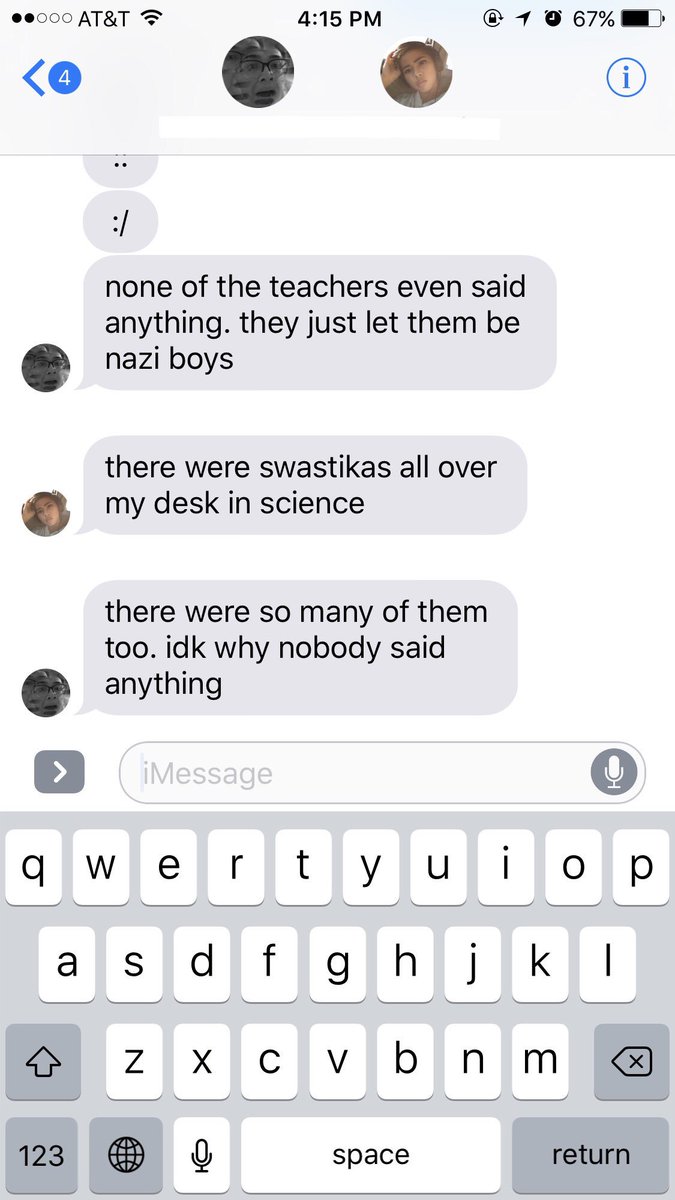 via Twitter/@@louismccorgilee
Presumably, there MUST have been at least one history teacher monitoring the school photos. Any one of my own high school history teachers would have shut that down before a single hand even got half way into the air. It's just common sense.
The school's official response doesn't even reflect the seriousness of these actions.
This letter is to make you aware of a situation that occurred on our campus today while our senior class was taking a large group panoramic picture. Several of our students made the poor choice of displaying inappropriate gestures during this time. Unfortunately, many of these images have been shared on social media. This is extremely disappointing as this is not an accurate representation of our student body

Cypress Ranch High School
Apparently the "unfortunate" and "extremely disappointing" part of this situation was that these images were shared on social media. Not that 70 students threw up a nazi salute while so-called "educators" watched in silence.
17 and 18-year-old boys are not children.
In Germany today you can be arrested for throwing up the nazi salute or saying "Heil Hitler" in public. There is a reason for that.
The seriousness and gravity of Hitler's atrocities (especially considering that Holocaust Memorial Day was only last week) should be enough of a deterrent against even joking about being a nazi.
Imagine the unease every Jewish student and student of colour must have felt being surrounded by fully grown boys chanting "Heil Hitler". The ugliness that came from these "silly" chants is well documented in history. It is so important not to become desensitized to what these gestures mean.
It's not cute, it's not funny. It's ugly. Words and gestures mean things. Always.