The Internet Thinks Hillary Clinton's Concession Speech Suit Had A Secret Meaning
10 November 2016, 10:47 | Updated: 8 May 2017, 17:09
Did you notice this?
As the world licks its wounds after a bruising American election, many are left trying to find hope and solace in the election result. And in her concession speech yesterday, Hillary Clinton told her supporters not to give up the good fight as she hoped to inspire the next generation to achieve great things.
Hillary Clinton's message to young Americans and young girls: "Never doubt that you are valuable and powerful" https://t.co/dbsH903Kh5 pic.twitter.com/sdcL7VkL8y

— ABC News (@ABC) November 9, 2016
She said in an emotional speech, "And to all the little girls who are watching this, never doubt that you are valuable and powerful and deserving of every chance and opportunity in the world to pursue and to achieve your own dreams."
Damn.
Well it wasn't just with words that Clinton sought to embody her campaign's message. As reported by AOL, throughout her presidential campaign, Clinton's outfits have been symbolic. For example, she has wore the colour white a lot, which is meant to symbolise the suffragette movement, which she wore when she accepted the nomination at the Democratic National Convention; at the final presidential debate; and on Election Day itself.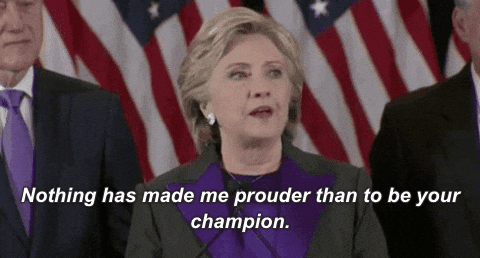 giphy
During her concession speech on Wednesday (9 Nov), however, Clinton wore a purple, which also holds a lot of symbolism.
As with white and gold, purple is one of the colours of the National Women's Party, according to the New York Times. A statement by the party stated that purple symbolises "loyalty, constancy to purpose, unswerving steadfastness to a cause."
Even in the last moments of this election, Clinton was still standing for what she believed it. Makes you wonder what the tone would have been had it been the other way round, huh?
___ ___ ___ ___ ___
Subscribe to the #PopBuzzPodcast for free on iTunes to get new episodes sent straight to your phone every Wednesday.