How To Find And Delete Your 'Frequent Locations' On iPhone
27 June 2017, 17:05
Your iPhone tracks everywhere you've ever been and it's really really creepy.
With the news that Snapchat can now log your location and display it to everyone on your friends list, it's all getting a bit worrying out there on social media isn't it? Who knows who can find your whereabouts these days.
It turns out that your iPhone has been logging every single place you've ever been and there's a list of locations hidden in your settings app. From your own house, to your Nan's house, your local McDonald's, your school... there's a list of all the places you frequently visit including how long you stay at each place and the time you arrive and leave.
It's not a new feature but we bet you didn't even know it was there, did you?
Logo TV
The feature that stores all this information is called 'Frequent Locations' and you can find it hidden and buried in the Privacy part of your settings app. The data is essentially used to help your iPhone predict your movements throughout the day, especially if you're a frequent user of the Maps app. But none of that data ever gets deleted. Imagine if you lost your phone and that information ended up in someone else's hands... terrifying, right?
Good news is that there's a way to turn it off completely and here's how:
1) Open Settings.
2) Go to your 'Privacy Settings'.
3) Turn on your 'Location Services'.
4) Scroll down to find 'System Services'.
5) Then find 'Frequent Locations' and click it.
6) Tap the 'Clear History' button and then swipe left to switch off the 'Frequent Locations'.
So, if you've been visiting somewhere you really shouldn't have (naughty) or if you just wanna live your life anonymously, privately and safely, switch that DAMN feature off now.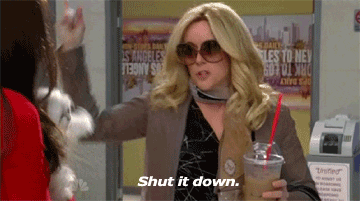 NBC
____ ____ ____ ____ ____
Listen to the #PopBuzzPodcast with GLOW's Alison Brie right here or subscribe for free on iTunes to get new episodes sent straight to your phone every Friday.