Madison Beer Finally Addressed The Leaked Audio Of Her Ex's Verbal Abuse
6 July 2017, 15:43
"I was blinded by love."
Fans of Madison Beer and Jack Gilinsky were shocked over the weekend after an alleged audio tape of a heated argument between the pair leaked on the internet.
Jack's tirade against his former girlfriend led many to label his words as abusive and, eventually, the internet personality was forced to apologize.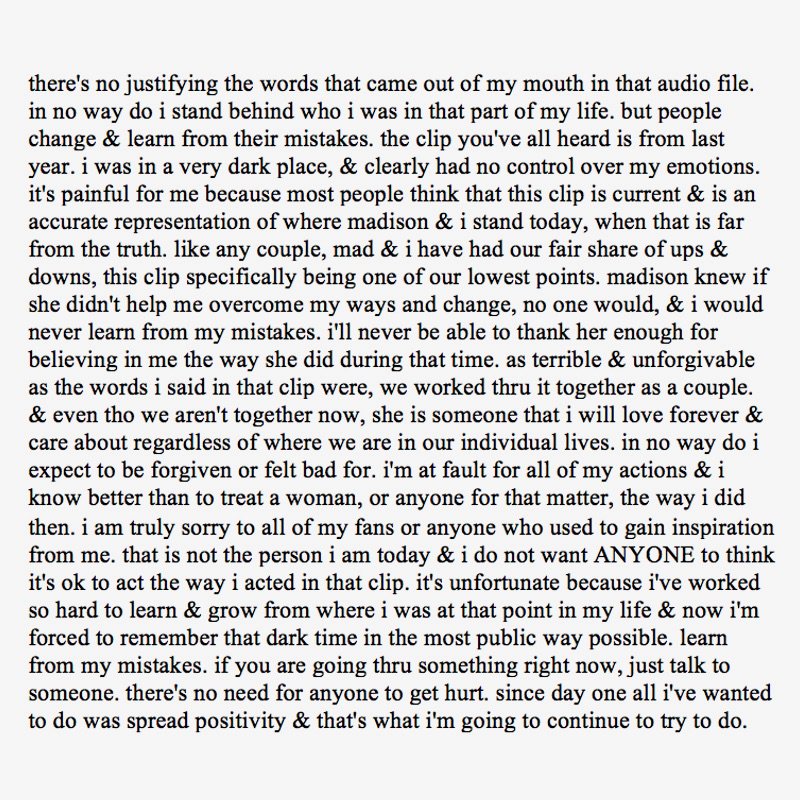 Twitter/Jack Gilinksy
Amid the social media storm, Madison has stayed relatively quiet on the subject, mainly posting snaps of her 4th of July festivities on Instagram.

But, after being touched by all the support she received from fans, Madison addressed the leaked recording in a series of (now deleted) tweets.
E! Online is reporting that the singer tweeted that she hoped to "fix" Jack.
"Jack and I having to face this yet again has been so hard," [..] "Many of you asking me, 'Why would you stay with him if it happened last year!' My theory was, and as horrible as this is, is that if I left him, he'd do it to the next girl. I tried to fix him."
via Instagram/Madison Beer

She also says that there were different factors that made her afraid to speak out.
"If someone is mistreating you in ANY way please speak up," she said.
"It is NEVER okay and I was blinded by love and much too afraid to come out and say anything in fear I would be broken up with / not taken seriously by someone I told. SPEAK UP. Don't make the same mistakes I did, your safety is never worth it."
"No matter what, no one deserves to be treated that way," she said. "You deserve the world and respect from EVERYONE and ANYONE. Be strong and thank you again."
Madison tweeted one final message of gratitude to her fans.
thank you for uplifting me in ways you couldn't imagine

— madison beer (@madisonbeer) July 4, 2017
Madison's situation is not uncommon. 33% of American adolescents say they have experienced some form of relationship abuse. We're proud of Madison for opening up about her experience. Her words will likely help other young girls and boys who may find themselves dealing with a similar situation.