11 Pancakes Of Your Fave's Faces That Are Too Good To Eat
28 February 2017, 10:57 | Updated: 8 May 2017, 17:09
Wanna eat Brendon Urie's face? Of course you do.
Today, February 28th, is Pancake Day, the annual celebration of all things fluffy and delicious as we use up all our eggs and flour before lent cruelly takes them away from us for a few weeks.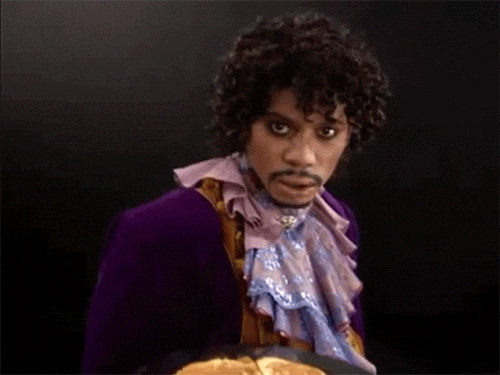 Giphy: Comedy Central
So if we are gonna be cut off from the good stuff for a while, let's do this Pancake Day in true style with some of the finest, artiest cakes on YouTube courtesy of Dancakes who has made all of your fave musicians, memes and TV characters into delicious treats. Here's a few we particularly enjoyed.
1) Twenty One Pilots
Come on, you always knew Tyler and Josh were super sweet. Now we have definitive proof.
2) Harambe
Celebrate the life of our dear departed Gorilla by eating an image of his face. It's what he would have wanted.
3) Brendon Urie
Pancake! At The Disco. Obviously. Some of these puns are just too easy.
4) Salt Bae
But don't actually sprinkle loads of salt in - these things have a recipe for a reason y'al!
5) Snapchat Ghost
Much like your selfies, these cakes will also disappear after just a few seconds.
6) Hamilton
Show me how to say no to this!
7) Suicide Squad
"She was fearless and crazier than him. She was his crepe, and god help anyone who dared to disrespect his crepe." (Doesn't quite work but you get the idea).
8) Spongebob Squarepant
The chefs at the Krusty Krab would be proud.
9) Bob's Burgers
Ironically, we're struggling to think of a good pun for this one. Sorry Bob, we've let you down. You'll have to fill in the blackboard yourself.
10) Stranger Things
Suddenly it makes sense why you always have to do this artwork upside down.
11) Groot
We. Are. Groot (and also damn hungry).
Dancakes has also partnered with Download Festival in the UK to produce these images of their three 2017 headliners: Aerosmith, System Of A Down and Biffy Clyro.
Check out even more awesome pancake designs over at the Dancakes YouTube channel here.