13 Famous People Who Want You To F*cking Register To Vote
22 May 2017, 11:34 | Updated: 22 May 2017, 11:43
You have until midnight tonight to get yourself registered for the UK election on June 8th. Get it done!
Calling all UK citizens - today, May 22nd, is your final chance to register to vote in the 2017 general election, set to take place on June 8th.
In the last election in 2015, according to Ipsos Mori, just 43% of 18-24-year-olds went to the polls, compared with 78% of people aged 65 or over. That is a HUGE gap and, given the big difference in voting patterns between the generations, a higher turnout of young people really could alter the final result entirely.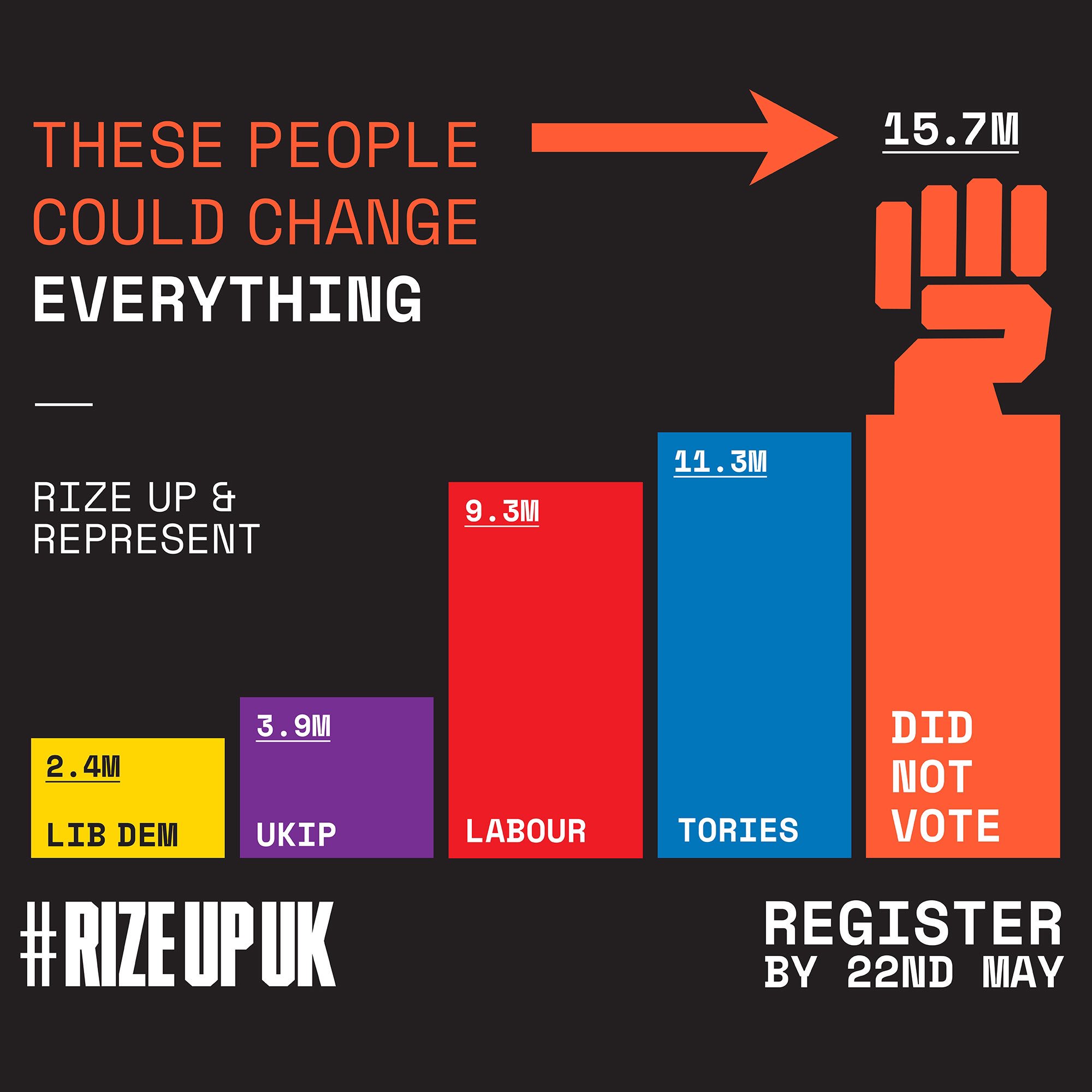 And with issues like university tuition fees, the NHS and, of course, Brexit all on the table this time around, there is no more important time for first time voters to get online and register (do it here. It only takes 5 mins).
But don't just take our word for it - here are just a handful of the many famous faces who want you to get on your laptop and register the f*ck to vote!
It's so important to voice your opinion and vote! Today's your very last chance to register > https://t.co/efxIK1S4JC

— Alfie Deyes (@PointlessBlog) May 22, 2017
Last chance today to register to vote for the #GeneralElection I encourage all fans, if eligible to make your vote, and future count. Jade x

— Little Mix (@LittleMix) May 22, 2017
Last chance to register to vote guys! If you haven't done it yet, here is the link! https://t.co/ADEabc1xgc

— Zoë (@Zoella) May 22, 2017
I leave soon but I've grown to love you and if you can vote you should vote.
Today is the last day to register. https://t.co/bUuCN8wd5r

— Lin-Manuel Miranda (@Lin_Manuel) May 22, 2017
The main thing I want, from the outcome of this election, is for more young people to have voted. 18-24 yr olds, vote for your future, now.

— Maisie Williams (@Maisie_Williams) May 21, 2017
MY UK BABIES ! THIS IS OUR CHANCE !!! REGISTER TO VOTE AND THEN VOTE LORD HELP US PLEASE VOTE !!!! https://t.co/dw8sBa7Pha happy Sungay xx

— olly (@alexander_olly) May 14, 2017
Don't lose out on your chance to have a say on your future! Register now https://t.co/72USVLr1I3 #IRegistered #UseYourVoice #YourVoteMatters pic.twitter.com/zyPEGMECe4

— matty (@Truman_Black) May 15, 2017
4 days left to register https://t.co/OOXc9Uih0P
Once you register, you've got 3 weeks to read through these & decidehttps://t.co/G4SiEGGCyv

— Jme (@JmeBBK) May 18, 2017
If you do NOTHING ELSE today, please register to vote. You don't know how lucky you are to have a voice. https://t.co/SXEFn6h4Cd

— James McVey (@TheVampsJames) May 21, 2017
YOUNG PEEPS! I'm wearing a hood & leather jacket (2things I KNOW YOU LOVE)to urge you to #RegisterToVote by May 22nd!https://t.co/9HUCf64zGo pic.twitter.com/lINGQ3hlaQ

— Aisling Bea (@WeeMissBea) May 17, 2017
Guys we're asking again that you please register to vote ASAP if you've not already. This shit's important: https://t.co/K3QxaPp4yB pic.twitter.com/bUaDBCGP6c

— Libertines (@libertines) May 16, 2017
One week left to register for your right to vote in UK election: https://t.co/3FjKcTfIiH #UseYourVoice pic.twitter.com/jP8lWAkARq

— Emma Watson (@EmmaWatson) May 15, 2017
U.K. Yup. https://t.co/DLJgnP0UUk

— Alexander William (@AlexAllTimeLow) May 21, 2017
See - get it done! Today!
Voter registration closes at midnight on May 22nd. The UK general election will take place on June 8th 2017.
____ ____ ____ ____ ____
Listen to the #PopBuzzPodcast with Brendon Urie right here or subscribe for free on iTunes to get new episodes sent straight to your phone every Friday.