Zendaya Just Taught A Twitter Troll Why You NEVER Post Sexual Assault Memes
4 July 2016, 12:08 | Updated: 8 May 2017, 17:09
Seriously? This is SO not okay.
19 year old Zendaya is a queen. Over the last year or so, the singer/actress/dancer has made her social justice stances known and showed how well she could hold her own in a fight. Whether she was defending herself against body shamers, talking cultural appropriation, or taking on the media for racially insensitive remarks, Zendaya's insistence on standing up for herself has always been a strength.
This time is no different.
When a truly depraved twitter account made a (now deleted) tweet about raping Zendaya and other celebrities, Zendaya was having absolutely none of it.
It's hard to imagine what type of person wakes up in the morning to hypothesize sexual violence against celebrities but people are rarely thinking clearly when they tweet something this awful.
Instead of staying quiet and accepting this, Zendaya put the account on blast, making her feelings known.
This is absolutely disgusting and you should be ashamed of yourself. Is this really what my generation thinks is ok? https://t.co/brqVohkX9E

— Zendaya (@Zendaya) July 3, 2016
The account then tweeted that getting Zendaya to notice him was "lit".
@ogxbenson the only thing that's lit is your immorality and inhumanity young man. I pray you find some sense.

— Zendaya (@Zendaya) July 3, 2016
People are sick...

— Zendaya (@Zendaya) July 3, 2016

You may think that it was just a joke that took it too far or that Zendaya was overreacting, but neither of those things are the case. Sexual violence or the threat of sexual violence is. not. a. joke.
Of course there were other women in that meme who chose not to respond to the tweet, but Zendaya standing up for herself is so incredibly important. Zendaya is 19, an outspoken feminist, and someone who has never backed away from trolls. She owes it to the hundreds of thousands of young women who follow her to stand up to people who are trying to normalize rape and rape culture.
So, let's all take a page from Zendaya's book. Next time you see anyone tweeting about committing an act of sexual violence against you, anyone you know, or anyone you don't know, go ahead and hit em' with that @ reply letting them know how trash they are.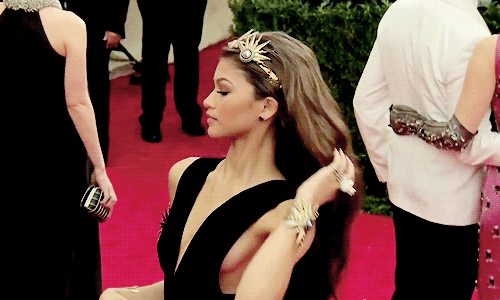 Giphy