19 Quotes From Iconic Teen Films For When You Need An Instagram Caption
4 April 2018, 16:45
Promoted by Love, Simon
"I think I'm destined to care so much about one person it nearly kills me"
Teenage coming of age films probably hold a special place in your heart. Whether you idolised Molly Ringwald's portrayals of adolescence in the 80s or laughed along with the misadventures of Ellen Page as Juno in the 00s, you'll know there's nothing quite like an iconic one-liner from a teen movie.
If you're in need of a clever caption for some varied Instagram scenarios, don't worry. We've got a few for you.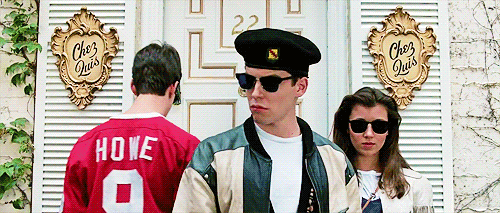 via Paramount Pictures/ Ferris Bueller's Day Off
EMOTIONS
"I just have something in my eye. Like a twig, or a branch." - Easy A (2010)
"People don't realize this, but loneliness is underrated." - 500 Days of Summer (2009)
"Do you ever feel weird?" - Love Simon (2018)
"I just wanna let them know that they didn't break me" - Pretty In Pink (1986)
"I feel infinite." - The Perks of Being A Wallflower (2012)
via 20th Century Fox/Love,Simon

LOVE
"That's why they call them crushes. If they were easy, they'd call 'em something else." - Sixteen Candles (1984)
"I think I'm destined to care so much about one person it nearly kills me" - Love Simon (2018)
"Who needs affection when I have blind hatred?" - 10 Things I Hate About You (1999)
"I've been watching you. Come closer." - Donnie Darko (2002)
"I get the feeling that we should kiss... I mean is that a good feeling or, like, a wrong feeling?" - Pitch Perfect (2012)
"There's no such thing as love, it's fantasy." - 500 Days of Summer (2009)
via Walt Disney Studios/10 Things I Hate About You
GROWING UP
"When you grow up, your heart dies" - The Breakfast Club (1985)

"She loved mysteries so much, that she became one." - Paper Towns (2015)
"If you haven't noticed I am a woman now. I wear a bra!" Angus, Thongs and Perfect Snogging (2008)
"What happens to us in the future? Do we become assholes or something?" - Back To The Future (1985)
via Universal Pictures/ The Breakfast Club
SELFIES WITH YOUR BEST FRIEND
"Yeah, that's right! We're superheroes! You love us!" - Kick-Ass (2010)
"Look, you seem like a sweet kid... actually you seem like a real pain in the ass..." - The Sisterhood of The Traveling Pants (2005)
"I have this theory that if you cut off all her hair she'd look like a British man." - Mean Girls (2004)
"She's my friend because we both know what it's like to have people be jealous of us." - Clueless (1995)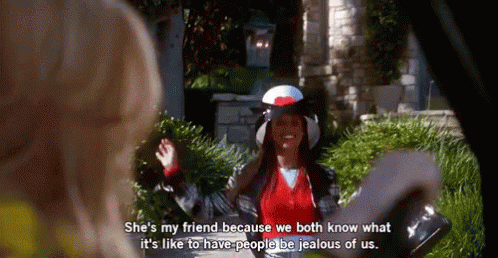 via Clueless/Paramount Pictures

For more quintessential teen movie moments, make sure you see Love, Simon in cinemas nationwide from April 6th. Book your tickets here.