Christmas Is Cancelled, Mariah Carey's Voice Has Left Her And No One Knows What To Do
4 December 2014, 11:41 | Updated: 8 May 2017, 17:09
It could have been worse. Maybe.
Bad news for fans of Mariah Carey's singing voice. It seems her signature pipes have taken a hiatus just in time for the annual 'All I Want For Christmas-A-Thon', known colloquially as "December".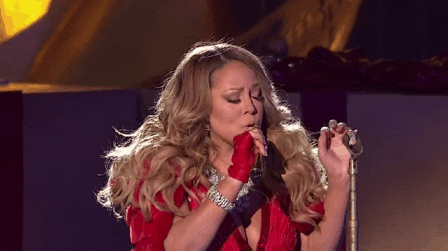 In all fairness to Mariah, she was probably experiencing vocal fatigue from anticipating having to sing that song every time she is seen in public from now until Christmas.
Throughout the entire performance Mariah has a look of controlled panic on her face, even clearing her throat mid-verse at one point before launching into the world's most poorly executed vocal run (3:36 – 3:50 of the video below).
In a bout of bizarre commentary, Mariah ends the song with nervous laughter before declaring "Merry Christmas!" (But It's December 4th) "I'm getting a new coat!"
Fans on twitter were both bemused and wary of the singer's mishap
Somewhere Ariana Grande watches Mariah Carey perform, looks on and mutters, "As you grow weaker, I grow stronger." #RockCenterXMAS

— Dennis Hinzmann (@Dhinzmann) December 4, 2014
Mariah Carey is doing a solid drunk karaoke version of a Mariah Carey song right now #RockefellerCenterTreeLighting

— Adam Epstein (@aepstein) December 4, 2014
Mariah Carey singing "All I want for Christmas is you" like: pic.twitter.com/hjXBdn4epa

— Chris Gamez (@Metsochist4Life) December 4, 2014
But at least Mariah apologised and, to be fair, she's usually a superstar in the vocal department.
Last night's situation was beyond my control. I apologize to all that showed up, you know that I would never want to disappoint you.

— Mariah Carey #MC20 (@MariahCarey) December 3, 2014
Watch the video below to what hear what is likely one of Mariah's worst live performances to date.