Marina Brings Back Crimped Hair And Pantsuits In The New Video For "Forget"
5 March 2015, 12:39 | Updated: 8 May 2017, 17:09
Crimptastic.
Just when we thought we were reaching the quiet end of Marina and the Diamonds' promo campaign for upcoming album FROOT, we're hit with yet another treat.
We heard new track "Forget" earlier this week, and Marina dropped the official video for the album's fifth track last night. She jams out with a magical disappearing band, surrounded by a nifty circular camera rail, and rocks a bunch of retro-inspired looks.
As much as we want to make a joke about wanting to "Forget" certain old-school styles, Marina actually pulls off the crimped-hair-pantsuit look surprisingly well.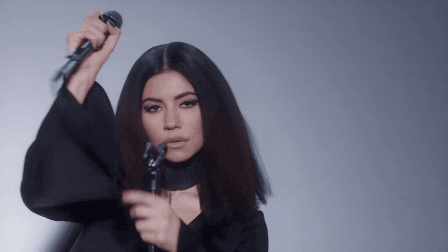 But then again, Marina has a habit of bringing back a lot of old styles for each album and making them look amazing. Maybe shoulder pads for the next one?
The track's still as good as we remember too. Check it out with the new video below.