This Half-Hour Mashup Of Triple J's Hot 100 With Taylor Swift Vocals Is Everything
21 January 2015, 11:18 | Updated: 8 May 2017, 17:09
#TayForHottest100? More like #TayISHottest100.
Taylor Swift has been stirring up some controversy in Australia recently.
#TayForHottest100 is a fan-driven campaign against Aussie radio station Triple J's "Hottest 100"; a voter poll that is arguably the most influential musical taste-maker down under. The plan is to hijack the voting process to include "Shake It Off" in the list, after the singer's explosive single has been snubbed from receiving any airplay on the station.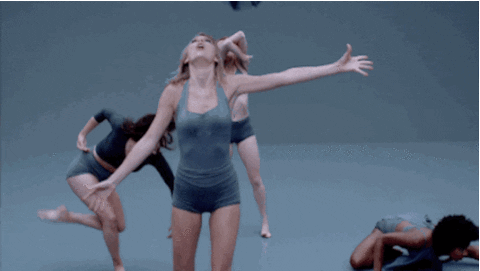 Some are in it in support of Taylor, others are in it to watch the "hipster elitist" Triple J fans have a breakdown, and Aussie DJ Jaymee Franchina is in it to make cool stuff.
Over a 72-hour sleepless period, Franchina has created "Everything's Taylor", an incredible 33min-long mashup. The "Taylor Swift vs. Triple J Mixtape" features 100 of the biggest tracks from the chart in the past 20 years, with vocals from 15 different Tay songs over the top.
Fan favourites such as Daft Punk, Arctic Monkeys, Grimes and even Kanye lend their tracks to Tay hits like "Mean", "22", and of course, "Shake It Off".
Just hit play. It is a half-hour JAM.
On release of the track, Jaymee wrote a lengthy post ion Taylor's support and defence, referencing the divisive reaction to the #TayForHottest100 campaign.
If only we could get something as awesome as this for every music campaign.
Read on for a full list of every track used, both Hottest 100 and Taylor Swift songs.
Hottest 100 songs
Wonderwall – Oasis (1995) 0.00 – 0:11
Paper Planes – M.I.A (2007) 0:11 – 0:55
Gamble Everything for Love – Ben Lee (2000) 0:11 – 0:55
Get Free – Major Lazer ft Amber Coffman (2012) 0:56 – 1:18
Born To Die – Lana Del Ray (2012) 1:17 – 1:56
I Can Talk – Two Door Cinema Club (2010) 1:23 – 1:45
The Prayer – Bloc Party (2006) 1:33 – 1:56
Bittersweet Symphony – The Verve (1998) 1:34 – 2:19
Closer – Nine Inch Nails (1994) 1:57 – 2:17
Hey Ya – Outkast (2003) 2:17 – 2:52
In For The Kill – La Roux (2009) 2:53 – 3:15
Stand Still – Flight Facilities ft. Micky Green (2013) 3:15 – 3:26
Gone Daddy Gone – Gnarls Barkley (2006) 3:26 – 3:49
Vitriol – Bluejuice (2007) 3:43 – 4:16
Never Miss A Beat – Kaiser Chiefs (2008) 4:16 – 4:22
Royals – Lorde (2013) 4:21 – 4:53
Runaway – Kanye West ft. Pusha T (2010) 4:43 – 5:12
Teardrop – Massive Attack (1998) 4:53 – 5:19
I'm Into You – Chet Faker (2012) 5:06 – 5:51
The Wilhelm Scream – James Blake (2011) 5:17 – 5:50
Arabella – Arctic Monkeys (2013) 5:50 – 6:11
Jump Into The Fog – The Wombats (2011) 6:03 – 6:14
Drop The Game – Chet Faker (2013) 6:13 – 6:24
Audience – Cold War Kids (2010) 6:15 – 6:23
Do I Wanna Know – Arctic Monkeys (2013) 6:22 – 6:52
Yellow – Coldplay (2000) 6:47 – 6:58
Pure Morning – Placebo (1998) 6:52 – 6:57
Clique – Kanye West ft. Big Sean & Jay Z (2012) 6:59 – 7:30
Doin' It Right – Daft Punk ft. Panda Bear (2013) 6:59 – 7:31
Lanterns – Birds of Tokyo (2013) 7:31 – 8:15
Fall At Your Feet – Boy & Bear (2010) 8:16 – 8:39
You Don't Know Me – Ben Folds ft. Regina Spektor (2008) 8:34 – 8:44
D.O.A. – Jay Z (2009) 8:42 – 8:43
Gangster's Paradise – Coolio (1995) 8:44 – 9:29
Coin Laundry – Lisa Mitchell (2009) 9:30 – 9:49
Sleepless – Flume ft. Jezzabell Doran (2012) 8:40 – 8:50
Scar Tissue – Red Hot Chilli Pepper's (1999) 9:51 – 10:23
Hold On – Alabama Shakes (2012) 10:23 – 10:50
Holdin On – Flume (2012) 10:30 – 10:47
Painkiller – Freestylers & Pendulum (2006) 10:50 – 11:12
Gold Digger – Kanye West ft. Jamie Foxx (2005) 11:13 – 11:52
Clint Eastwood – Gorillaz (2001) 11:52 – 12:15
Dance Bear – Snakadaktal (2012) 12:15 – 12:51
Freestyler – Bomfunk MC's (2000) 12:50 – 13:41
Don't Fight It – The Panic's (2007)12:51 – 13:12
Genesis – Grimes (2012) 13:42 – 13:56
A-Punk – Vampire Weekend (2008) 13:54 – 13:59
So Good – Allday (2012) 14:00 – 14:28
Teenage Dirtbag – Wheatus (2000) 14:01 – 14:25
The Nosebleed Section – Hilltop Hoods (2003) 14:11 – 14:21
Superstar – Lupe Fiasco ft. Matthew Santos (2007) 14:31 – 15:06
Is This How You Feel – The Preatures (2013) 14:31 – 15:20
Guess Who Batman – Lily Allen (2008) 14:51 – 15:09
Shutterbug – Big Boi & Cutty (2010) 15:10 – 15:40
Good Riddance (Time Of Your Life) – Green Day (1998) 15:11 – 15:40
No Man's Woman (2000) 15:40 – 15:58
Flame Trees – Sarah Blasko (2005) 15:41 – 15:59
Young and Dumb – Chance Waters ft. Bertie Blackman (2012) 15:56 – 16:40
Kick Push – Lupe Fiasco (2006) 16:01 -16:41
Bomb The World – Michael Franti & Spearhead (2003) 16:41 – 17:16
Fidelity – Regina Spektor (2006) 17:16 – 18:09
Why'd You Only Call Me When You're High – Arctic Monkeys (2013) 17:17 – 18:06
What's Golden – Jurassic 5 (2002) 18:10 – 18:42
Work It – Missy Elliot (2003) 18:44 – 20:08
Brother – Matt Corby (2011) 18:45 – 18:47
Lose Yourself To Dance – Daft Punk ft. Pharrell Williams (2013) 18:45 – 22:16
Naive – The Kooks (2006) 18:45 – 20:01
Heart It Races – Architecture In Helsinki (2007) 19:24 – 20:41
My Doorbell – The White Stripes (2005) 20:03 – 20:07
The Breach – Dustin Tebbutt (2013) 20:07 – 20:45
Lisztomania – Phoenix (2009) 20:39 – 21:21
Elevate – St Lucia (2013) 21:21 – 23:00
Given The Chance – The Kite String Tangle (2013) 22:09 – 22:59
Stronger – Kanye West (2007) 23:00 – 23:25
Team – Lorde (2013) 23:25 – 24:01
Electric Feel – MGMT (2008) 24:01 – 24:03
Float On – Modest Mouse (2004) 24:04 – 24:57
Young Blood – The Naked & Famous (2010) 24:58 – 25-15
A Slow Decent – The Butterfly Effect (2006) 25:12 – 25:20
Midnight City – M83 (2011) 25:29 – 25:46
Fred Astaire – San Cisco (2012) 25:47 – 26:05
Praise You – Fatboy Slim (1999) 26:06 – 26:25
Warrior – Mark Foster, A-Trak & Kimbra (2012) 26:06 – 26:27
Bangarang –Skrillex (2012) 26:15 – 26:16
Crave You – Flight Facilities (2010) 26:28 – 27:33
Around the World – Daft Punk (1997) 27:00 – 27:15
Music Sounds Better With You – Stardust (1998) 27:00 – 27:35
You've Changed – Sia (2009) 27:29 – 28:05
Dare – Gorillaz (2005) 28:06 – 28:07
Dance The Way I Feel – Ou Est Le Swimming Pool (2010) 28:07 – 28:45
Changed The Way You Kissed Me – Example (2011) 28:45 – 29:01
Flippers – Art Vs Science (2008) 28:46 – 29:02
Take Me – Rufus (2013) 29:01 – 29:45
Move Your Feet – Junior Senior (2003) 29:34 – 29:50
Drop The Pressure – Mylo (2004) 29:52 – 30:35
It's Like That – Run DMC ft. Jason Nevins (1998) 30:36 – 30:57
Ready For The Floor – Hot Chip (2008) 30:47 – 31:35
Forget You – Cee-Lo Green (2010) 31:39 – 32:32
Audacity Of Huge – Simian Mobile Disco (2009) 32:08 – 33:21
Ghosts N Stuff – Deadmau5 (2009) 32:41 – 33:40
Taylor Swift songs
"We Are Never Getting Back Together" (0:00 – 2:18)
"Shake It Off" (2:18 – 4:21)
"Riptide" (Vance Joy Cover) (4:21 – 5:15)
"I Knew You Were Trouble" (5:19 – 7:33)
"Everything Has Changed" (7:33 – 9:51)
"Mean" (9:52 – 11:54)
"Our Song" (11:55 – 13:58)
"White Horse" (14:00 – 15:38)
"All Too Well" (15:40 – 16:00)
"Fifteen" (16:02 – 18:40)
"Blank Space" (18:46 – 22:20)
"22" (22:24 – 24:47)
"Picture To Burn" (24:59 – 26:25)
"Love Story" (26:29 – 29:50)
"You Belong With Me" (29:52 – 33:28)