That Awkward Moment When Meek Mill Freestyles Over A Drake Track
14 May 2015, 12:13 | Updated: 8 May 2017, 17:09
Did Drake's fantasy love triangle just get a little more complicated.
Drake has done a really bad job of keeping his thirst for Nicki Minaj a secret. And when you're using your verse on her song to call dibs, you've already lost.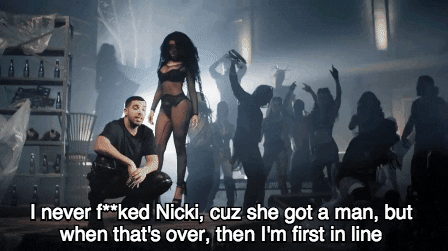 So you can imagine how tense things might have gotten when Nicki's real "first in line" turned out to be Drake's pal Meek Mill. The pair have been covertly dating for months, only to have (apparently) gotten engaged in April.
We can hope that all is good between the three artists though, as Meek just dropped an intense freestyle over the backing of Drake's "Energy" from February's If You're Reading This It's Too Late.
Released by Funkmaster Flex on Soundcloud, Meek's bars are a firey callout to his own "enemies", with a callback to "real n***as"; possibly referencing lyrics from he and Drake's 2012 collab "Amen".
Hopefully this doesn't start something awkward. Check out "Amen" if you feel like a throwback to when things were less tense.
Want the latest music news and internet gold delivered straight to your inbox? Sign up to our newsletter by hitting the link at the top of the page.