Get To Know Bleachers Before All Your Friends Do
29 April 2015, 12:31 | Updated: 8 May 2017, 17:09
Probably the coolest guy in music at the moment.
Time to get your hump day on with a little midweek music. This week, seeing as he's been on the tip of all our tongues this week, we're making sure you're all caught up with the life and times of Jack Antonoff.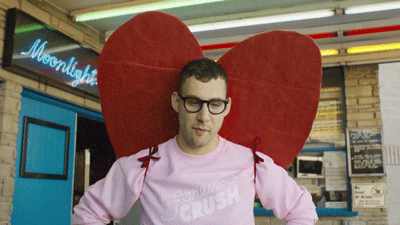 He is 1/3 of the band fun. and 1/1 of the band Bleachers.
As far as Bleachers goes, Jack is probably known best for his song "I Want To Get Getter". With lyrics like, "I didn't know I was lonely till I saw your face. I didn't know I was broken till I wanted to change," Jack offers up an ultra relatable take on the every day depression that many people deal with without even realising.
He is also 1/2 of this awesome relationship.



He counts Taylor Swift and Grimes as a musical collaboration buddies.

And this summer, Jack is going on tour with Charli XCX.

This is exciting because we already got a taste of the two working together.
His and Bill Nye's friendship may actually be our favourite thing ever.
He is not afraid to share real, raw truths.
scared I will die opening a coconut

— jackantonoff (@jackantonoff) April 21, 2015
But, if anyone asks, we're 100% here for the music