Miley Cyrus Just Picked A Fight With Nicki Minaj And This Could Get Awkward
28 August 2015, 11:47 | Updated: 8 May 2017, 17:09
Bad form, Miley. Bad form.
When Miley talks about things, people tend to listen. Whether she is shading sexism in the music industry or calling out double standards that people are too afraid to challenge, Miley tends to get it right on a lot of issues.
However, Miley's latest soapbox moment might be one of her few undeniably whack moments.
Last month, Nicki Minaj and Taylor Swift very publicly feuded on Twitter over a fairly innocuous tweet about the social makeup of the people often nominated in the best video category of the VMAs. Taylor Swift thought she was being subtweeted so she jumped in and thus began the week long phenomenon of "feud week".
Well, a month later, Miley's has waded into the controversy via a New York Times interview. Miley and Nicki looked pretty friendly at this year's Grammy awards, but that didn't stop Miley from taking oddly personal shots at Nicki.
Not that this is jealousy, but jealousy does the opposite of what you want it to — that's a yoga mantra.[...] I don't respect your statement because of the anger that came with it. You made it about you. Not to sound like a bitch, but that's like, "Eh, I didn't get my V.M.A."

Miley Cyrus
What I read sounded very Nicki Minaj, which, if you know Nicki Minaj is not too kind. It's not very polite. I think there's a way you speak to people with openness and love. You don't have to start this pop star against pop star war. It became Nicki Minaj and Taylor in a fight, so now the story isn't even on what you wanted it to be about. Now you've just given E! News "Catfight! Taylor and Nicki Go at It."

Miley Cyrus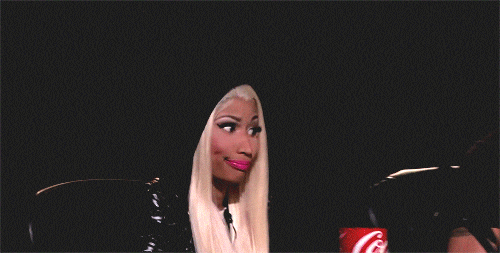 Officially not here for this, Miley. The whole statement on this is whack and unsupportive. Instead of being an ally who is aware of their privilege, Miley has made this very important underlying issue about shading someone she clearly does not like. Not cool.
You can read Miley's full interview here.