10 Things We Definitely Know Miley Cyrus Will Do At The VMAs
21 July 2015, 12:13 | Updated: 8 May 2017, 17:09
We know our girl Miley pretty well.
Miley Cyrus announced yesterday that she would be hosting this year's MTV VMA Awards. She shared the news via her Instagram account in the form of a full body alien suit. As far as that method of announcing goes, I'd say it gets the message across pretty well.
The controversial singer implied that she was barred from performing and was, instead, offered the hosting gig. Many will remember her performance at the 2013 VMAs shortly after the release of Bangerz, which may or may not be the reason she hasn't been allowed to perform at the award ceremony this year.
Memories….
With this very interesting announcement, there are a few things we're guessing Miley will probably do while hosting.

1) Announce/debut new music
With all eyes on her, we're hoping Miley Cyrus takes the opportunity to give fans a taste of her new music. Her musical journey has been fairly traditional. She released Bangerz in 2013, promoted it for the rest of the year, toured it in 2014 and is now "working on other projects". The VMAs would be the ideal place to drop a song or surprise video? We live in hope.

2) Announce her candidacy for President
Everyone and their mother is running for president. Why not Miley? (Please, before the angry comments come, I know you have to be 35 years old to run. ZZZzzzZZ).

3) Kiss Amazon Ashley


4) Plug her charity, Happy Hippy Foundation
This is one we KNOW Miley will do. She has done a lot of great work with her new charity, Happy Hippy Foundation and she will not let the chance to talk about it pass her by. With over 8 million captive viewers at her disposal, Miley is going to plug the hell out of her charity for homeless youth.

5) Make 397,057 references to that Robin Thicke performance
They're going to write a million jokes about it for her. Award show writers can be so trite, honestly.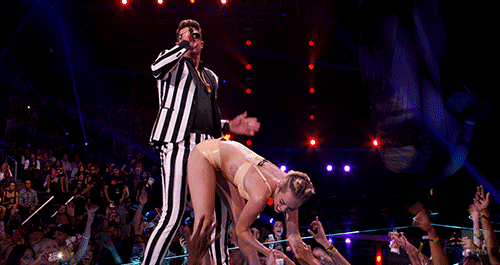 6) Make 600 thinly veiled references to marijuana.
What can we say? Miley loves Mary Jane.

7) Touch someone's butt.
If you guys don't think Miley will touch someone's butt, then you don't know Miley.

8) Bring her maybe, possibly, probably, girlfriend Stella as her date.



9) Bring out someone from her #Instapride campaign.


Personally I hope Miley brings out Gigi Gorgeous to announce an award. But either way, she will definitely bring someone out from her June campaign #Instapride.

10) Literally kill a man.


[KILL BILL SIRENS]
Now that's compelling television.