MTV's First Trailer For Their "Scream" TV Series Is Just Like A Really Long Movie
14 April 2015, 15:01 | Updated: 8 May 2017, 17:09
This is a thing.
We'll admit: we kind of had no idea that a TV adaptation of the Scream movie saga was in development. But now that it's here, and happening, and MTV have released the first official trailer, we low-key wish we were still in the dark.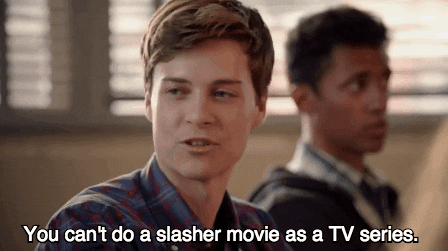 Yeah, thanks friend.
The series seems to be aiming for the same meta-satire-slasher vibe that made at least the original movie great, and its following three sequels kindasortagood; but whether or not that translates well into an overarching ten-episode plot remains to be seen. As much as we hate to admit it, it's probably gonna have to be funny to pull it off; but the official synopsis suggests otherwise.
"The series kicks off after a cyber-bullying incident results in a brutal murder, with the shocking violence stirring up memories of a killing spree from the past that has haunted some, intrigued others and maybe just inspired a new killer. It centres on a group of new teens — with two old friends struggling to reconnect at its heart — who become lovers, enemies, suspects, targets and victims of a killer who's out for blood."

MTV
The "cyber-bullying" angle suggests it's MTV that's struggling to reconnect with it's teenage audience, but we'll avoid bing TOO skeptical until we see some more when it hits TV on June 30th. For now, check out the first trailer below. It's very Scream meets Friday 13th, so watch out for a little gore.