5 Seconds Of Summer Album 3: Release Date, Tracklist & Everything We Know So Far
27 March 2018, 16:23 | Updated: 27 March 2018, 16:26
With new single 'Want You Back' now available, we round up all the latest news as 5 Seconds Of Summer get back in the studio to record album number 3.
Everyone's favourite Aussie four-piece 5 Seconds Of Summer have been hard at work for a while now prepping their upcoming third studio album. The band officially dropped their comeback single 'Want You Back' on February 23rd as well as announcing some new tour dates:
#WANTYOUBACK OUT NOW https://t.co/iATgh4ZeUW pic.twitter.com/SwLYcpky14

— 5 Seconds Of Summer (@5SOS) February 23, 2018
26 Dates, intimate shows, New @5SOS, I cant believe the reaction to the new song, thank you x x pic.twitter.com/FGy84eQX0i

— Ashton Irwin (@Ashton5SOS) February 23, 2018
On March 27th, the boys unveiled the video to 'Want You Back'. You can watch that below.
Plus, we've now got our first look at their brand new merch collection which we can similarly analyze for clues.
Could that lip-heavy image end up being the album cover?
Look, we 5SOS fans aren't a patient bunch so we are left asking ourselves the same question - what the f*ck is it going to sound like? Pop Punk? Synth-realness? Norwegian death metal?
Well thankfully we've already had a few brief glimpses behind the studio doors to discover how album 3 is shaping up. Let's round up all the info...
1) What are the song titles on the new 5SOS album?
Some of the new songs registered in different data bases. #5SOSFam #iHeartAwards #BestFanArmy (2) pic.twitter.com/Q1j40pwC7n

— Festive Updates @5SOSFamUpdater) March 30, 2016
Aside from 'Want You Back', 5SOS fans really are very good at sleuthing and managed to uncover a few titles that had been legally registered by the band. So what could these be about? 'She's Got A Rocket' sounds kind of promising in a Busted 'Year 3000' kind of way and 'Reasons' has "big acoustic ballad" written all over it. As for 'Make Or Brake' and 'Carry You Home Tonight', we're slightly worried this will mark a Gaga-style venture into the world of Country. Hopefully their travels across the US haven't rubbed off on them that much...
Also spotted online was the track name 'Valentine' which the band debuted on March 10th at a concert for iHeartRadio: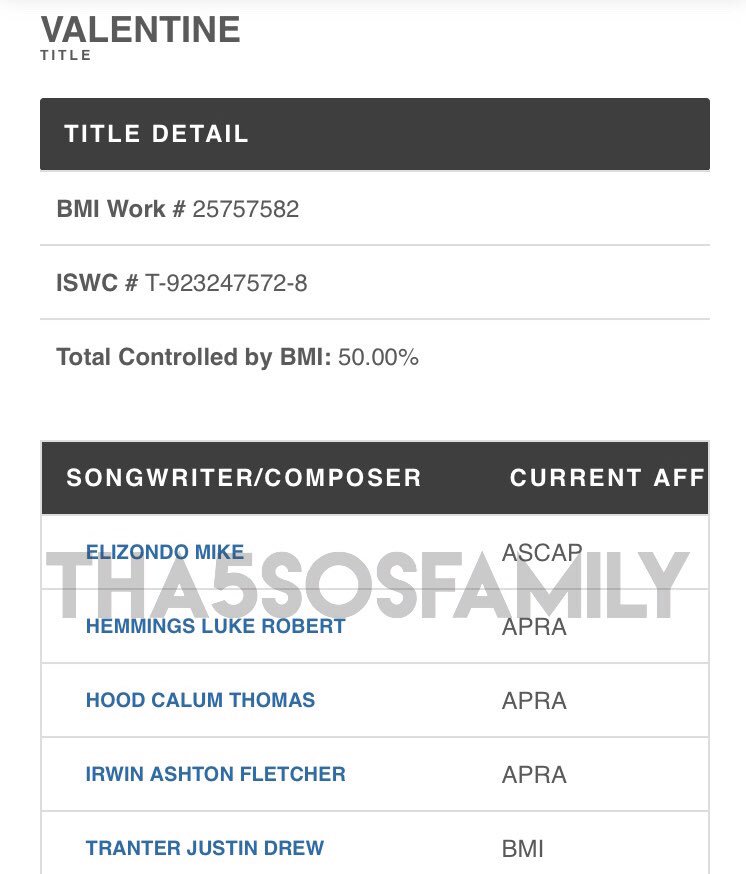 2) Who are they working with?
Some serious home brew we cookin up in the kitchen @blink182 @5SOS @travisbarker @markhoppus @JohnFeldy @liluziaoki pic.twitter.com/YMYTsLlkWA

— Steve Aoki (@steveaoki) March 22, 2016
Images on insta and snapchat have shown Calum Hood in the studio with a wide range of collaborators including legendary producer John Feldmann as well as DJ Steve Aoki and Blink 182's Mark and Travis. So judging by that weird mix, the new record will be a pop-punk-EDM-extravaganza with a sh*t hot drum beat in the back. Probably.
Plus, in a recent interview with Maxwell on radio station Z100 in New York, the boys revealed that they have been working with Mike Elizondo who most recently had success producing 'Stressed Out', 'The Judge', 'Polarize' and other tracks on Twenty One Pilots' hugely successful album Blurryface:
"We worked with a bunch of new producers man. One of the highlights was Mike Elizondo who did all the Eminem stuff, all the Dr Dre stuff, that's how he came up. But he recently did the Twenty One Pilots stuff which we love".
Given Elizondo's pedigree and previous form, consider this one more reason to get VERY excited about the new record. And, as you can see above, he is also listed as a songwriter on 'Valentine'.
3) What will the third 5SOS album sound like?
The gap between the sound of their debut and Sounds Good, Feels Good was a lot bigger than you remember, and when they dropped the Ghostbusting banger 'Girls Talk Boys', it became clear that the boys were up for widening their sound beyond the catchy pop punk they became known for.
In fact, Michael Clifford recently confirmed to Billboard that there will be a slight change in their overall sound:
"I think when all the new stuff comes out, it's like a departure of our old sound but it still keeps elements of all of the things we liked about it. It was just time for us to change...It's really hard to explain what the sound is without actually hearing it. It's like taking music where it's at now, and putting our spin on it -- making that sound unique. And it's good. It's not necessarily more electronic; it's not just rock…It's kind of taking a mix of '90s… It's so hard to explain… There's a bunch of garage… The ways we do the gang vocals is kind of like Beastie Boys-ish. Then we have somber pianos on songs… It all makes sense."
So, who knows where they may end up going next but expect some synth in there as well as some big pop stadium sounds ala Fall Out Boy's last album.
4) What is the release date of the new 5SOS album?
Giphy
Well, the original plan was to drop 5SOS 3 in late 2017 but, as Michael Clifford recently told Billboard, it didn't quite work out that way:
"Our fans were pretty pissed off that we didn't give them an update about releasing an album this year because towards the start of the year, we were pretty positive we'd have an album out by the end of [2017]...With timing, it just didn't end up working, but we're definitely gonna have the album out next year."
So, with the first single now officially out, expect the album very soon...
We'll keep you posted on all the 5SOS info as we get it guys!