SURPRISE! 5SOS Thank Fans On 5th Birthday With New Release
3 December 2016, 10:48 | Updated: 8 May 2017, 17:09
#5YearsOf5SOS
It feels like only yesterday the 5SOS fam's ears were #blessed and 5 Seconds Of Summer came into their existence. Yet here's we are, 5 years later. There's been multiple Michael hair colours, fire songs, world tours and many, many memes. Strap in guys, here come the feels!
It's_been_84_years.gif
Seeing #5YearsOf5SOS and trying to figure out how time passed so quickly
-Liz pic.twitter.com/wlZjnwqZoA

— 5SOSTL(@5SOSTL__) December 2, 2016
Even Santa is feeling emosh...
Realising it's been #5YearsOf5SOS and it's December @5SOS
#MTVStars5SOS pic.twitter.com/dkFjJRjegd

—yasmin (@SpideyMikey5SOS) December 2, 2016

Rip us.
i just choked on my cereal hdbdhdg pic.twitter.com/cWHtO2QRJ0

— ㅤ (@slfIvinyI) December 1, 2016
FETUS.
#5YearsOf5SOS I'm proud of how far they've come and how much people they reach with their music. Here's to many more pic.twitter.com/rrT38NAber

— Alec (@Alec_Mcn) December 2, 2016
They've come so far.
Proud and Emotional #5Yearsof5SOS pic.twitter.com/Wmio983EZQ

— 5 YEARS (@aeonianmgc) December 2, 2016
HELP.
5SOS at Rouse Hill in 2012 #5YearsOf5sos #MTVStars5sos pic.twitter.com/YuVC5M28tB

— #5YearsOf5sos (@5SOS_Daily) December 1, 2016
#SingleTear
Don't cry because they grew up, cry because you grew up with them #5YearsOf5sos pic.twitter.com/uXBGbUVc61

— ㅤ (@actuaIcth) December 2, 2016
5 beautiful years of equally beautiful photos.
Happy 5 years of sexiness #5Yearsof5SOS - M pic.twitter.com/Rc0qKS287u

— 5SOS Updates (@5SOSGlobalArmy) December 2, 2016
Even Doge is in his feelings about it.
only true 90s kids remember when @5SOS was @5secsofsummer #5YearsOf5SOS #MTVStars5sos pic.twitter.com/PU6Qz3Jip0

— #5YearsOf5sos (@5SOS_Daily) December 1, 2016
Make it happen 2017.
#5YearsOf5SOS #tbt #MTVStars5SOS
TIME TO MAKE THIS A REALITY pic.twitter.com/c5dt4Gq5xJ

— RAVEN'S RUIN (@Ravens_Ruin) December 1, 2016
We're not crying you are.
retweet if you'll be here for 6 years of 5sos? Who's loyal #5YearsOf5SOS

— Luke Hemmings (@Luke5SOSloljoke) December 2, 2016
And as if that wasn't enough, to celebrate the band have casually dropped a WHOLE BUNCH of rare tracks and b-sides to thank fans, compiled together under the title 'This is everything we ever said'.
Some of the best songs we've ever written are in this playlist, today we have released them for you worldwide x https://t.co/p48RFPbEL7

— ASHTON IRWIN (@Ashton5SOS) December 4, 2016
New 5SOS newsletter about #ThisIsEverythingWeEverSaid #5YearsOf5sos! pic.twitter.com/jRuAkVJUgk

— 5SOS UPDATES! (@Tha5SOSFamily) December 3, 2016
Safe to say the 5SOS fam are straight up losing their shizz.
These are the songs that @5SOS had added today (December 3) #ThisIsEverythingWeEverSaid pic.twitter.com/0feIpJjiOb

— abby. (@idkabbyx) December 2, 2016
Here's to another 5 years lads!
Happy #5YearsOf5SOS pic.twitter.com/NWezPUFRsp

— PopBuzz (@popbuzz) December 2, 2016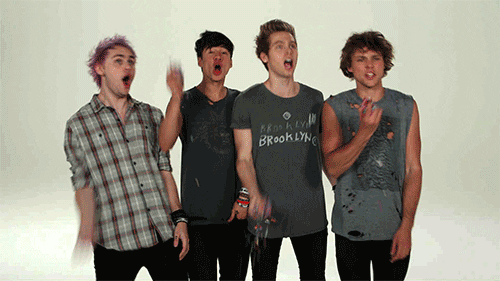 via giphy.com
Save
Save
Save
Save
Save
Save
Save
Save
Save
Save
Save
Save