5SOS The Musical - 5 Perfect Plot Ideas
13 January 2016, 13:16 | Updated: 28 November 2018, 12:51
Jazz hands at the ready
Sugarscape have uncovered an excellent quote from Calum Hood in the band's recent Rolling Stone interview.
Green Day have been put in a position where they can make a f**king Broadway musical. That's something we'd love to have our hand in, not just making albums. To do that kind of stuff is amazing.

Calum Hood
So, basically, 5SOS want to make a musical. Allow us now to speculate wildly and dig out our big book of Broadway puns as we suggest some potential plot ideas for this stage show to end all stage shows.
1) We Will Sos You
Jukebox musical set in a dystopian future where rock music is banned for some unknown reason and everyone wears leather and has silly hair. Will run in the West End until the end of time itself. Starring Liam Payne.
2) Good Girl
Initially following the plot laid out in the lyrics of "Good Girls", ("good girls are bad girls that haven't been caught"), the show then develops into a musical adaptation of the book/film Gone Girl, climaxing with a (spoiler) gruesome bloody murder in the bedroom to the tune of "She's Kinda Hot".
3) Amnesia
A guy or girl wakes up with amnesia. At some point they sing "Amnesia". Job done.
4) Don't Stop
Superhero musical similar to the music video, the boys playing themselves as a regular band who gain superpowers when they are each bitten by a radioactive guitar string, played by Zayn Malik, and are forced to fight against all pop punk-related crimes eg. not chipping in money for pizza.
5) Jet Black Heart
A guy or girl wakes up with a jet black heart. There's a hurricane underneath it. At some point they sing "Jet Black Heart" while a hurricane engulfs the stage, soaking the audience. 5Sos Branded raincoats will be on sale in the foyer.
If the boys are reading this, feel free to use any of our ideas. We will just require a small percentage of the daily box office takings.
Can't wait.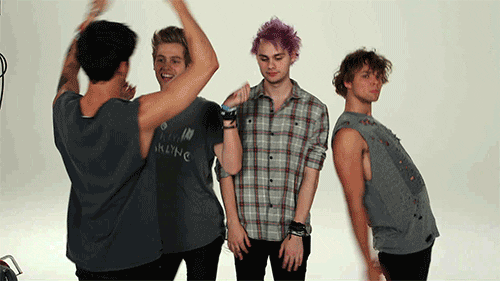 mtv