You can now rent 5SOS star Michael Clifford's home on Airbnb
30 November 2020, 12:59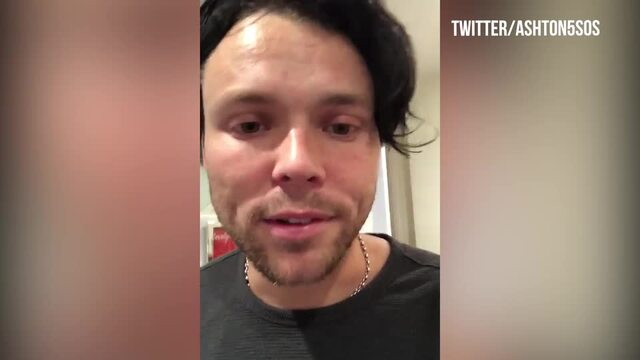 5SOS' Ashton Irwin calls out Billboard over Number 1 controversy
The luxury eight-bed house is filled with 5 Seconds of Summer awards, plaques and merchandise.
5SOS Army gather round! 5 Seconds of Summer guitarist Michael Clifford is Airbnb-ing his LA home and you can stay there.
Airbnb users will already know that the holiday rental app hosts a variety of iconic locations where people can stay. Twilight fans, for example, can rent Bella Swan's actual house in the movie (complete with cardboard cutouts of Bella and Edward). Also if you want to get a closer look at where Joe Jonas and Sophie Turner got married, that chateau is on Airbnb too.
READ MORE: Ashton Irwin opens up about body dysmorphia in powerful Skinny Skinny lyrics
Now, Michael Clifford and his fiancée Crystal Leigh are getting involved in the Airbnb game. You can rent their LA property.
Earlier this year, Michael and Crystal purchased a $2 million compound with 8 bedrooms, 10 bathrooms, a swimming pool, a jacuzzi, a studio, a gym, a fire pit, a BBQ and a cinema room. And now, 5SOS fans have spotted that it's available to rent on Airbnb. Not only that but one fan has stayed there and filmed inside of it to show people exactly what the house is like.
Taking to TikTok, @celinelinarte posted a video tour of the home. In the TikTok post, she revealed that she had no idea that it was Michael's house before staying there. She also showed people the welcome gifts that Michael and Crystal left including luxury amenities and InstaxMini polaroid cameras.
Perhaps best of all, Celine showed off the studio in the house, which includes a room filled with 5SOS' plaques and awards, including their actual Nickelodeon Awards and MTV VMAs.
You also have direct contact with Crystal and Michael if you stay there. Crystal's host description reads: "Hi, I'm Crystal! My husband and I travel extensively and we love AIRBNB - both for renting our own homes when we are out of town, and to stay in unique homes while traveling :) because we've been on both sides of the equation, we truly understand what's needed in terms of hospitality, comfort, and respect."
It goes on: "We are always just one text away & available for any questions or concerns. We also have a property manager who can come by and help with anything you may need in person! He's also happy to come by for a safe, socially distanced, in-person check-in if you prefer. This is sometimes helpful to learn the house quickly and ask any questions, but we also offer contactless check-in as well."
Staying in the compound is not cheap though. It rents for $3,774 a night. However, up to 16 people can stay at one time, which would work out as $235 a night per person. Time to team up with some other fans and start saving.
Check out the compound's Airbnb page here.