5SOS Won Worst Band For The Third Year In A Row & The Fans Are Partying Hard
The boys have done it again and now it's time to party!
5 Seconds Of Summer have taken home the award for Worst Band for the third year in a row at the NME awards in London and the fans are celebrating HARD!!!
As is tradition, the members of 5SOS encouraged their fandom to go out and vote for them to be crowned Worst Band once again, wearing the label as a badge of honour.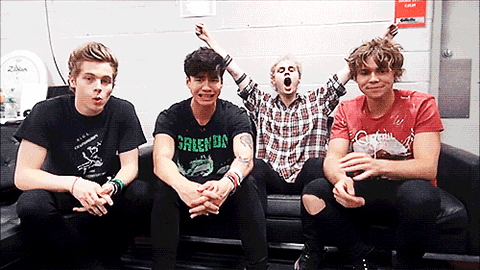 Giphy: Favim
They beat fellow nominees Twenty One Pilots, The Chainsmokers, Nickelback, Honey G and Clean Bandit to take the title.
And now that it's official, 5SOS fans worldwide have started partying it up on social media.
For the 3rd year in a row, 5sos have one an NME for Worst Band
-Shaina pic.twitter.com/fIw1GgSlRF

— 5SOSTLᵀᴴᴱᴼᴿᴵᴳᴵᴺᴬᴸ (@5SOSTL__) February 16, 2017
When 5sos won the title of "worst band" in a row, but hey 5sosfam voted them#Girlstalkboys #Bestmoviesong #Iheartawards pic.twitter.com/B66vGgCL1Q

— Lukeisapenguin|-/ (@saleeeexx) February 16, 2017
okay so 5SOS have won worst band again for the 3rd year running, i'm so proud of these dudes!

— cait (@caitIuke) February 16, 2017
5sos won an NME for worst band for the 3rd year in a row congrats guys!! I'm so proud @5SOS pic.twitter.com/gsO4dVjHkd

— ash loves michael (@5secondsxxluke) February 16, 2017
5SOS won the Worst Band Award for the third year in a row. Let's go to party hard @5SOS! -K pic.twitter.com/BburmUwkxS

— 5SOS Updates (@5SOSReporte) February 16, 2017
Well done lads, we're so proud. *sheds a single tear*
The 1975 took home Best Live Act at the ceremony and Matty referenced their previous win for Worst Band during his acceptance speech before giving away the statue to a random fan waiting outside. As you do.
Check out the full list of winners from the VO5 NME Awards 2017 below:
Best International Band supported by Austin, Texas – Live Music Capital Of The World: Metallica
Best British Male supported by Pilot Pen Company: Skepta
Best British Female: MIA
Best International Male supported by VO5: Frank Ocean
Best International Female supported by VO5: Christine & The Queens
Best New Artist supported by TOPMAN: Dua Lipa
Best Album supported by HMV: Bastille – 'Wild World'
Best Track supported by Red Stripe: Christine And The Queens – 'Tilted'
Best Live Band supported by Nikon: The 1975
Best Video: Slaves – 'Consume Or Be Consumed'
Best Festival supported by ID&C: Glastonbury
Best Music Film: Oasis: Supersonic
Best TV Series supported by Domino's: Fleabag
Best Film: My Scientology Movie
Music Moment Of The Year: Coldplay's Viola Beach tribute at Glastonbury
Best Festival Headliner: Adele
Best Small Festival: End Of The Road
Villain Of The Year: Nigel Farage
Hero Of The Year: Beyoncé
Worst Band: 5 Seconds Of Summer
Best Reissue: Oasis – 'Be Here Now'