9 Indie Queens Who Will Give You Major Life Goals
22 July 2016, 14:57 | Updated: 31 December 2019, 11:08
Slay.
Female musicians are not championed in the same way their male counterparts are. You need only look at the historical gender disparity in record sales, award winners and music jobs for proof. In fact, it's not just a music problem, gender inequality is present in pretty much all industries and cultures.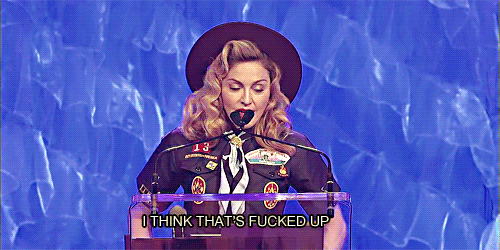 giphy
Research suggests that gender division in music starts young. One report in the UK suggested boys at school are much more likely to pick up a guitar than girls. There are a couple of theories behind this, mainly that the guitar is considered a more 'masculine' instrument because it's size (big), pitch (lower) and it's physical shape (more on that later), and this might discourage girls from giving it a shot. Peer pressure will play a big part in the decisions being made too.
To redress the balance, and celebrate all our fave guitarists out there, we've put together a little list of badass women who play guitar to help give you a little nudge towards picking up your first tab book, or a bump of encouragement if you've already started learning .
If you're a guitarist, or just a massive music fan, we'd love to know who your favourite musicians are! Let us know in the comments!
1) Melanie Martinez
Some people might realise that Melanie is in fact quite nifty with an electric guitar. She started learning when she was 14-years-old and started writing songs in her parents' bathroom in their house in Long Island. Her first tour, after appearing on The Voice, aged 16, was just Melanie and her trusty acoustic guitar.
Things are a little different now. In an interview, Melanie said, "I think that my songwriting has changed for sure. I used to be inspired by writing with a guitar. I can't play acoustic guitar anymore, only electric. Now I'm more concept-focused. I'm very much into scenes and everything feeling cohesive." Still, like thousands of artists before her, it all started with just a few chords on a humble acoustic.
2) Ellie Rowsell (Wolf Alice)
Last year, you may have seen a lot of articles about the lack of females on festival bills at big music festivals like Reading & Leeds and Coachella. One of the rare exceptions of this was Wolf Alice.
The British band's debut album landed at no.2 on the UK Charts and their reputation is growing around the world. They are lead by Ellie Rowsell, who sings and plays guitar.
Like Melanie, she picked up the guitar at 14 and began developing her songwriting skills. She started off solo ("I was so bad, I literally couldn't play guitar and sing at the same time") before forming the band a couple of years later with some friends. Now she's the lead songwriter in one of the UK's most exciting and successful new bands. Awesome.
3) Alessia Cara
Like many musicians and singers of her generation, Alessia Cara first made a name for herself on YouTube, uploading covers of her favourite songs.
Alessia first took to the guitar when she was 10-years-old. "I just begged my parents to get one. I took lessons for a few months, then taught myself the rest. Then I learned piano by ear and then ukulele later on in life".
It was when her cover of The Neighbourhood's 'Sweater Weather', uploaded in 2013, started blowing up that people started to take notice. It wasn't long before a production company signed her up. Then she wrote a little song called 'Here', the introverts anthem, and the rest is history.
4) Bethany Cosentino (Best Coast)
Famed cat-lover and weed-enthusiast Bethany Cosentino is a mega babe. Her band (solo project, really) Best Coast has been a favourite among the alt rock crowd for a few years now.
Bethany's first guitar was a present from her father when she was 13. "[It's] a reissue of a '70s Danelectro. It's the first guitar I ever played in Best Coast, and it's the guitar I used to write all the songs for the album ('Crazy For You')"
Guitar lessons weren't really her 'thing' though. "I've never been one that was good at school or lessons of any sort. I'd show up to my lessons without having practiced my stuff. I don't know – just because I grew up around it and it's something I did at such a young age, it felt natural to me". Further proof you don't need lessons to become a badass guitar pro!
5) Haim
Haim are the closest we're ever going to get to a modern equivalent of the Von Trapp family. We must protect them at all costs.
Este, Danielle and Alana Haim all grew up learning guitar, thanks to their musically-minded parents. They started young and had a family band with their mum and dad, usually performing classic rock and funk covers.
Eventually they ditched their parents, and Este switched to bass and Danielle and Alana stayed on electric. They officially formed their own band in 2007 and gigged for years before being picked up by a label after independently releasing their Forever EP in 2012. Perseverance pays off, ya'll!
6) Halsey
Halsey is in many ways a contradiction; an atypical popstar with a stereotypical rise to fame (at least, it's pretty normal these days). She's doesn't quite fit the mainstream but she's still on Justin Bieber's album. She was raised on Biggie AND Nirvana. Crazy.
We don't see much of Halsey with her guitar any more. But, her big break came after posting videos of herself doing covers on YouTube. And what what she playing? Yep, an acoustic guitar. She started learning when she was 14 and by the time she was 19, she had a record deal. What a difference 5 years can make, huh?
7) St Vincent
St Vincent has what they like to call in the trade, "chops". In other words, she's really f*cking good at her instrument.
Even the most casual of listener to her critically-acclaim album, 'Digital Witness', will raise an eye brow as Annie Clark shreds her way through 'Digital Witness' and 'Birth In Reverse'.
Such is her standing amongst guitarists, Annie was even invited to design a range of guitars with guitar maker Ernie Ball. Speaking of the range, Annie said she wanted to design a guitar that was lightweight and shaped better for women. Or, as she wrote on Instagram, "ergonomic, lightweight, and sleek" and had "room for a breast. Or two". Annie Clark = hero.
8) Grimes
Grimes isn't really a guitarist, at least she wasn't before her latest album 'Art Angels'. Did that stop her picking it up to record bits for the record? Absolutely not.
Grimes, aka Claire Boucher, is an autodidactic learner. She started making music in 2007 while at University. She bugged a friend to teach her how to use Garageband, despite having no previous experience with recording or writing music. Over the years she has taught herself how to play piano, violin, production, drum beat programming, and eventually guitar, turning herself into a one woman band. She wrote, recorded and produced 'Art Angel' all by herself. It's also her best record to date.
Although she's not known for her guitar work, we thought it was important to include Grimes on this list as she proves you can pick up an instrument at any age and learn to master it with enough hard work and dedication (it does help if you're already a musical genius tho).
9) Courtney Barnett
If you don't know about Courtney Barnett yet, then you should. Barnett is the hottest property in fuzzy indie-rock land right now thanks to her laconic lyrics, deadpan delivery and songs full of character (and characters).
She's also a fucking boss at guitar. One of those players that just oozes style and talent. The Australian songwriter was nominated for Best New Artist at the Grammy's in 2015 and she's been tearing up the festival circuit with rave reviews for her live shows.
She started out by watching her brother play. "I started playing guitar because him and his friends did, and I thought it was pretty cool". Initially she played in bands, as she was a little scared of songwriting. "I was always so nervous about [songwriting]. It was a real struggle, but I liked it at the same time. It had some sort of fulfilment, even though it was really crippling. I love playing in bands. I kind of prefer playing in bands, playing guitar, but I love doing what I do now."
Moral of the story: don't let your nerves you stop doing something you enjoy! You never know where it might take you!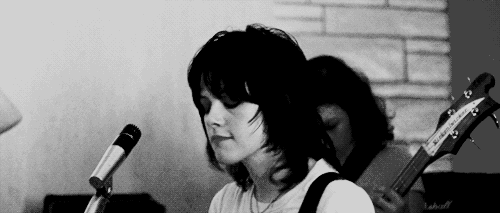 giphy