All Time Low Have Announced A Special Surprise For Fans...
8 July 2016, 13:41 | Updated: 8 May 2017, 17:09
We were hoping this day would come.
If you're a hardcore All Time Low stan, you've probably already watched the band's first live DVD a million times by now. Well here's some good news for you: they're doing a second one! Woo!
beyourself1204.tumblr
Yep, All Time Low will release their second documentary, Straight To Hell DVD II: Past, Present And Future Hearts, on August 26. That's next month guys! Watch the trailer below:
The follow-up to the first Straight To DVD (2010) recording follows the band as they record their chart-topping Future Hearts album, their sold-out show at London's Wembley Arena in 2015 and two previously unreleased tracks! Holy f*ck!
And if you're feeling fancy, you can also order a special deluxe version of STD II which includes 2 CDs + DVD with 4 Exclusive Fan-Favorite Tracks + 12" x 12" Limited Edition Photo Art Book featuring 72 pages of exclusive live and behind the scenes photos. Only 5,000 are available worldwide so get in there early folks! You can pre-order over here.
Hands up, who's going to be reliving Wembley with this DVD?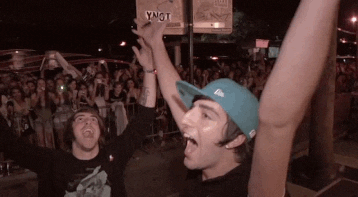 giphy