Ariana Grande confirms Dalton Gomez is her boyfriend in Stuck with U video
8 May 2020, 07:04 | Updated: 8 May 2020, 07:53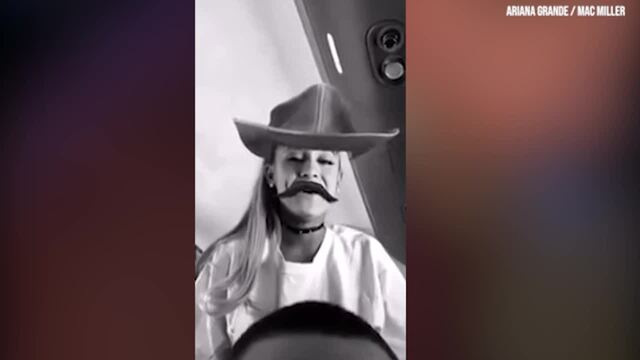 The sweetest Ariana Grande and Mac Miller moments on Snapchat
Dalton Gomez makes an adorable cameo appearance in Ariana Grande and Justin Bieber's 'Stuck with U' video
Ariana Grande has revealed that she is dating real estate agent Dalton Gomez in her 'Stuck with U' video with Justin Bieber.
Today (May 8), Ariana Grande and Justin Bieber released their highly-anticipated duet 'Stuck with U'. The old-school ballad is a romantic torch song about being forever tied to the one you love. Not only does it feature brilliant vocal performances from Ariana and Justin but it's also a charity single. Proceeds will be donated to the First Responders Children's Foundation.
READ MORE: Ariana Grande fans start petition for her play Megara in live-action Hercules movie
The video for the song features Justin's wife Hailey Bieber, as well as a surprise appearance from Ariana's new boyfriend.
Who is Ariana Grande's boyfriend in the 'Stuck with U' video?
Ariana and Justin put out the 'stuck with u' video when the song came out and, alongside clips of fans dancing and swaying to it, it also stars both of them with the loves of their lives. Ariana first appears with her beloved dog, Toulouse, who you will likely recognise from the 'thank u, next' and '7 rings' videos. Meanwhile, Justin appears in candid footage with Hailey.
However, at the end of the video, Ariana can be seen dancing with a mystery man and then the camera pans out to show us that it's none other than Dalton Gomez. Back in March, E! reported that Ariana was in a relationship with Dalton. They also claimed that Ariana met Dalton when he worked as a dancer years ago and he's since started working in property.
Ariana and Dalton also cuddle, embrace and kiss in the video and it's too cute for words.
Ariana Grande & Justin Bieber - Stuck with U (Official Video)
Naturally, fans are living for the shot. The couple look adorable together and, given that Ariana's kept her relationship private in recent years, it's a rare glimpse into her personal life. One fan tweeted: "ARIANA REVEALED SHE HAS A BOYFRIEND AND LOOKS SO HAPPY OMG I'M SO HAPPY FOR HER". Another added: "ARIANA AND DALTON IM CRYING".
SHE REALLY CONFIRMED HER NEW RELATIONSHIP ON A MUSIC VIDEO FOR A CAUSE. UGH! HER MIND! 😩🙌💖

the man is dalton gomez, a real estate agent, and ariana's new boyfriend 💖#stuckwithu pic.twitter.com/DqRsC237al

— devil spawn (@jaredridinghoe) May 8, 2020
We have no choice but to ship it.
QUIZ: We know how many people you will date based on your taste in Ariana Grande songs