VOTE: Which Bastille "Wild World" Track Is Your Fave?
12 September 2016, 11:44 | Updated: 31 December 2019, 11:23
The boys second album has landed and we NEED to know your thoughts...
Bastille dropped their much anticipated second album Wild World this week and fans are already going nuts for the endless dancefloor anthems that have been tearing up festival stages all summer long.
The London group's new record ups the stadium-ready ambition of the first, full of singalong moments, big beats and plenty of film quotes thrown inbetween songs to give them that Bastille stamp of eccentricity. They return to the UK later this year for a HUGE arena tour.
You'll have already heard the singles "Good Grief" and "Send Them Off" on PopBuzz radio. But just which track on the album is your favourite?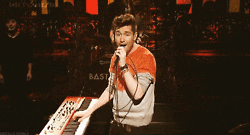 Rebloggy
There is only one way to settle this epic argument - time for a PopBuzz poll.
So, which track gets your vote? Let us know below now.