Why Is It So Damn Difficult To Find Beyonce's Formation Video On YouTube?
18 March 2016, 14:43 | Updated: 8 May 2017, 17:09
Seriously, does anybody have the link for the Formation video?
We had a moment the other day - we wanted to listen to Beyonce's "Formation" complete with killer visuals so we headed over to YouTube. We couldn't find it. #SCANDAL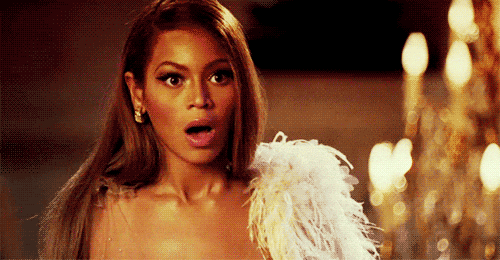 via giphy.com
Long story short, the "Formation" video is still unlisted. Try and type 'Beyonce Formation Video' into YouTube. The official video will not appear. Unless you have the exact link, chances are you won't find it on YouTube. HINT: You have to go to Beyonce's website to find it. By the time we got there, the moment had passed. She thinks she's slick...but she ain't.
How dare she... via youtube.com
As reported by TubeFilter, despite being unavailable on iTunes, "Formation" isn't doing badly in the charts - but it could have done MILES better had the song and its video been more accessible online. YouTube streams account for your Billboard charting, so TIDAL need to stop trying to make fetch happen, it's making Bey's masterpieces suffer.
Since the unlisted video dropped on February 6th (40 days ago), it's had almost 34m views. In comparison, Rihanna's ~listed~ Work video has reached 133m views in just 25 days and has been sitting pretty on top of Billboard's chart for a while now, despite all that TIDAL mess.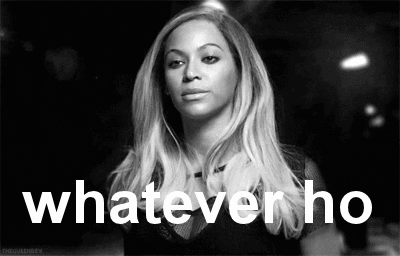 via giphy.com
Formation was SUCH an important political, social and cultural statement. You'd think Beyonce would want that video and those incredible visuals to be seen on every single laptop or phone screen around the world. By reserving the video for the 2m strong user base of TIDAL, or those who have the initiative to traipse all the way through Beyonce's website to find it, she's losing out on MILLIONS of views. We don't get it.
You might argue that Beyonce doesn't need to do all this - we're thinking exactly the same. But there's a reason why you keep seeing Taylor Swift and Rihanna snatching and breaking records instead of undisputed Queen Bey. And we wrote about it just a few days ago.
Tbh, we're ready for B6 and we're ready to drown in Beyonce's majesty but BEY, Y U GOTTA MAKE IT SO HARD FOR EVERYONE?! WHAT IS YOUR GAME?!
via giphy.com