Beyoncé Act II: Release date, tracklist, news and theories about the Renaissance sequel
28 November 2023, 12:37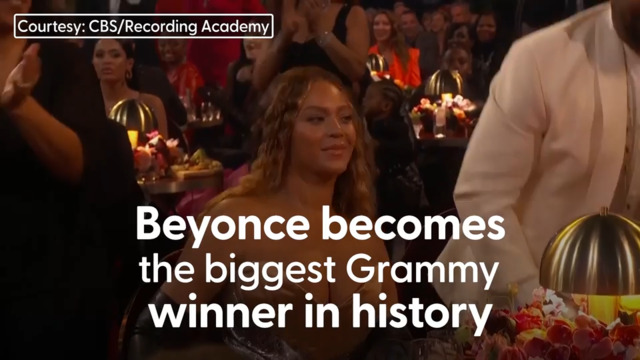 Beyonce becomes the biggest Grammy winner in history
What is Echoville? Here's everything we know so far about Beyoncé's highly anticipated new album B8.
She's one of one, she's number one, she's the only one but where is Beyoncé's Act II and what do we know about it so far?
Ever since Beyoncé began referring to Renaissance as "Act I" on her website and social media, fans have been desperate to know what future acts would be in store for us. Beyoncé then confirmed in the Renaissance liner notes that Renaissance is the first act of a "three act project" and she teased that the acts were "recorded over three years during the pandemic".
There were rumours that Beyoncé's new Renaissance tour film was called "Act II" but those have since been debunked. As a result, fans have guessed that Renaissance is the first of three albums but Beyoncé is yet to say anything about Act II or Act III of the project. Nevertheless, there have been several key hints and easter eggs as to what we can expect.
With that in mind, here's everything we know about Beyoncé's Act II so far and all of the ongoing B8 theories explained.
READ MORE: Beyoncé Renaissance visuals: Everything we know about the upcoming film and music videos
Is Beyoncé's Act II an album?
Based on all the information we have so far, all signs point to Act II being another album. Before Renaissance was released, a source told Variety that it would "feature both dance and country-leaning tracks". Fast forward to the album coming out and the "dance" detail was true but we're yet to hear any country-leaning songs. Could they be on Act II?
The source also said that the project would have songwriting credits from Ryan Tedder and Raphael Saadiq. Fans will know that Raphael Saadiq co-wrote 'Cuff It' and 'Pure/Honey' but Ryan is nowhere to be seen on Renaissance. Could he be on Act II? Ryan's experimented with country sounds before as well so it all adds up.
There's also a more extensive theory that Beyoncé will be reclaiming genres created by Black artists with each project. The first act reclaims dance, the second could reclaim country and the third could reclaim a completely different genre?
I think #RENAISSANCE acts will showcase music genres created by black culture & seek to reclaim them: house, country, rock.

I'll be all out gone if Beyonce expands the sound she made w/ Jack White on Lemonade.

& I do think she has something to say after that CMA performance.

— Tati ⚡️ (@tatixtia) August 9, 2022
When does Beyoncé release Act II?
Despite Renaissance coming out in July 2022 and Beyoncé doing an entire Renaissance World Tour since then, there is still no official word on when we can expect Act II.
However, with the US leg of the tour now over and its corresponding concert film in cinemas this December, fans think we might get an Act II announcement imminently...or at the very least some news about the elusive visuals.
In an interview with Variety in 2022, Nova Wav, who worked on 'Alien Superstar', 'Cuff It' and 'Summer Renaissance', were asked about Act II. They didn't reveal much but they teased: "It's coming. And it's good."
Is Beyoncé's Act II called Echoville?
Eagle-eyed members of the Beyhive have spotted that there appear to be several "echo" and "echoville" related easter eggs in the Renaissance World Tour visuals. Now, this could have all just been a teaser for Beyoncé's Travis Scott collaboration 'Delresto (Echoes)' but reports have surfaced that she's also trademarked the term 'Echoville'.
Rafael Pavarotti, who has photographed Beyoncé multiple times for British Vogue, also shared a photo of some magazines titled "ECHOES" in September. This could all be a coincidence but fans think it could be a hint that Echoville is upon us.
Whether or not Act II is called Echoville is yet to be seen.
Beyoncé has reportedly submitted eight applications for the trademark of 'ECHOVILLE' — a word that can also be seen on the Renaissance World Tour visuals. pic.twitter.com/LAAroyfHvg

— Pop Base (@PopBase) June 29, 2023
Beyoncé wears "endless ECHO" hat in the teaser

Beyoncé at a place called the ATLANTIS, "there's a UTOPIA of people from all over the world on this stage"

"ECHOVILLE place"

"the ECHO is being discussed in today's summit"

"the ECHO" newspaper

Beyoncé on "ECHOES" from "UTOPIA" pic.twitter.com/T9R7BkxAfj

— BEY-Z🐝 is ALL UP IN YOUR MIND ⊚ Fan Account (@beyzhive) July 28, 2023
the COWBOY from the KNTY 4 NEWS segment appears on page "29" in "the ECHO" newspaper on the cover art of "ECHOES" pic.twitter.com/G1thWV1Nh6

— BEY-Z🐝 is ALL UP IN YOUR MIND ⊚ Fan Account (@beyzhive) July 28, 2023
What is Beyoncé's Act II tracklist?
As always Beyoncé likes to keep information like tracklists and songwriting credits secret until she announces anything. That being said Sol Was and Leven Kali, who worked on 'Virgo's Groove', were asked by Variety if they're involved in the next two acts of Beyoncé' project and they had quite an interesting response.
Sol said: "Who knows, who knows. We can't say, but we will say they're super fire." Meanwhile, Leven then added: "We can tell you everything is somehow going to keep getting better. Every time I hear some new shit I'm blown away. So like don't even worry about the next two acts."
The piece was published in July and Variety has since retracted those quotes.
We'll let you know as soon as soon as we find out anything more.
Read more Beyoncé news here:
Ashnikko Breaks Down 'Weedkiller' Track By Track | Making The Album