How Beyoncé Turned Her Heartbreak Into The Best Album Of 2016
25 April 2016, 14:07 | Updated: 8 May 2017, 17:09
Proof that you're never too perfect to feel the pain of a broken heart.
You know how they say that the truth is often stranger than fiction?
Take for example the unlikely event that someone would cheat on Beyoncé--an inhumanly beautiful angel. The reality of this seems unlikely but here we are with a Tidal exclusive by the name of Lemonade. A physical manifestation of "hell hath no fury like a woman scorned." But how did we get here? How did alleged infidelity give way to the "Lemonade Era"?
gif via E online
Because context is essential, here is a run down.
The way Beyoncé tells it, she and Jay Z started dating when she was 19.
They were married by 2008.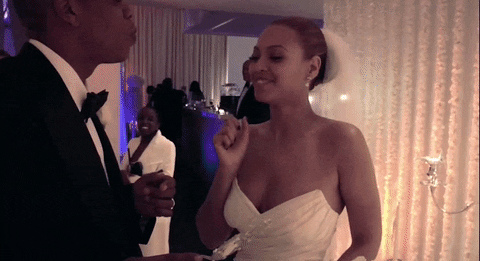 Blue Ivy was born in 2012.
The self titled album was released in December 2013
And Lemonade arrived on April 23, 2015
But, likely the most important clue about the record was this moment:

At the time, we could only speculate about the nature of this footage of Solange, Bey, and Jay in an elevator. Now, nearly two years on from this, it fits into Lemonade's narrative like a near perfect puzzle piece.
There is a line from B's Jack White collaboration, "Hurt Yourself", where she powerfully screams the line: "when you hurt me, you hurt yourself." It could, quite literally, be a soundtrack to this incident. A battle cry against the emotionally scarring experience of a broken heart.
Well, #Lemonade finally answers the age old question of why Solange tried to beat up Jay in that elevator.

— Karl Hartman (@kvhartman) April 24, 2016
Y'all this is why Solange was beating on Jay in that elevator #LEMONADE

— Chaka Kani (@Afri_Kani) April 24, 2016
I KNEW SOLANGE BEAT HIM IN THE ELEVATOR FOR A REASON! #LEMONADE

— Cersei (@CrazyClarine) April 24, 2016
Then there is the social and cultural impact of Beyoncé's self titled album. Lemonade would not exist in anywhere near the same way without the self titled. Just compare 4 with Lemonade and you'll see that Beyoncé had to live for the Lemonade era to exist.
Simply put, there is no way Beyoncé could release an album about feminism, married love, and sex and then go on to ignore infidelity in her own married life. As we probably already know, life and heartbreak can fuel some of the greatest art. On Lemonade, barring "Formation", there are far fewer moments of light hearted elation compared to what we heard on Beyoncé. Far fewer "surfboardt" moments.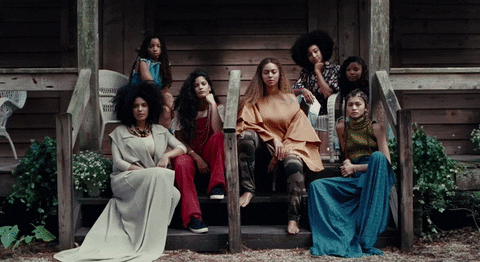 gif via HBO
gif via HBO
And then there is the fact that Lemonade is so. damn. black. So many things had to take place, culturally, for B to release an hour long film on HBO of almost exclusively black faces. Black Lives Matter, Black Girls Rock, Black Girls Are Magic are all cultural movements/attitudes that had to manifest for this entire project to exist. Beyoncé has never been political but this is surely her most political work to date.
Lemonade is a fine work of art. It was born from a perfect storm of events and circumstances that will almost certainly make this one of the greatest heartbreak albums of our time (except Adele's 21. Credit where credit is due). Like Beyoncé not-so-subtly implies: she made lemons into Lemonade and we should be grateful to be on this journey with her.