Umm... Did Beyonce Just STEAL From Another Artist?
3 May 2016, 14:37 | Updated: 8 May 2017, 17:09
Kleptoncè back at it again? Or are the non bey-lievers just being petty?
It's barely been two weeks since Beyonce let us sip the sweet sweet lemonade she had been brewing and yet we find ourselves here... in the midst of yet ANOTHER plagiarism accusation. And if it ain't dance moves or unauthorised vocals the Queen has been accused of stealing, it's entire cinematography.
via giphy.com
Non bey-lievers - who we can only assume have spent the last 10 days in a dark room furiously trying to find receipts for the entire album - have unearthed a video from 1997 by visual artist Pipilotti Rist that bares a ~HIGH KEY~ resemblance to Beyonce's 'Hold Up'.
Sure, walking down a street and smashing up cars with a baseball bat isn't the most original idea in the world but the frame for frame cinematography coincidence is almost too much. Right?
via giphy.com
You can watch the side by side comparison here and decide for yourselves.
Is it a blatant case of plagiarism? Or do the haters just need to cool off and let us enjoy the Lemonade in peace?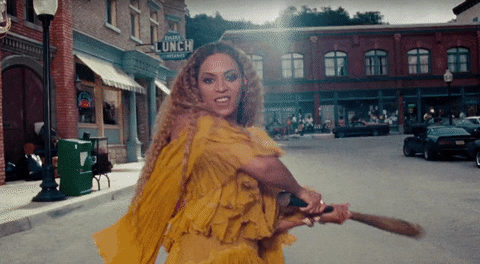 HBO / via giphy.com