Beyoncé *Might* Play Nala In "The Lion King" Live-Action Remake And We're Screaming
31 March 2017, 11:31 | Updated: 8 May 2017, 17:09
Who run Pride Rock?
Hold onto your bottles of Cuervo and get the f*ck in formation because there's some casting news about 2018's Lion King live-action remake that might just make you lose your damn mind.
According to Variety, there's ONE person that producers have in mind to voice the iconic Nala in the live-action remake of the classic Disney film. And she goes by the name of Beyoncé.
VH1 / via giphy.com
As it stands, there's been no official decision about the role on Beyoncé's part but it's understood that the studio and director will do absolutely ANYTHING to accommodate her because - don't know if you've noticed - she is currently with child(ren). And just incase you were panicking about the physical demands of pretending to be a lion for six months, it's just a voice role. The whole thing will be shot in the same way as the recent live-action Jungle Book remake.
The film is set to be directed by Jon Favreau, the man behind Iron Man, The Jungle Book and the greatest film of all time, Elf. A few casting announcements have already been made with Donald Glover as Simba and James Earl Jones returning as Mufasa. Production is reported to start in May.
If she DOES accept the role, you should probably prepare yourselves for a scalping when she turns up the vocals for her own version of 'Can You Feel The Love Tonight'. We're already wetting ourselves in excitement.
Beyoncé is reportedly top pick to play Nala in Disney's "The Lion King" remake. IMAGINE THE SOUNDTRACK pic.twitter.com/tVrE0tiy8Z

— Beyoncé Facts (@beyceipts) March 31, 2017
Ladies and gentlemen, please be upstanding for the ~potential~ Queen of Pride Rock.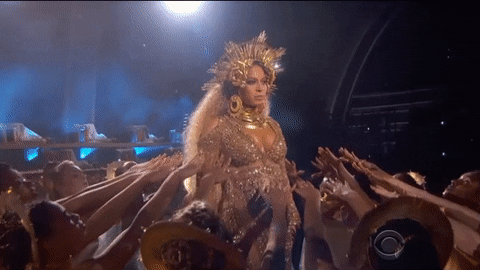 CBS / via giphy.com
____ ____ ____ ____ ____
WE'RE BACK! Listen to the #PopBuzzPodcast with Noah Cyrus right here or subscribe for free on iTunes to get new episodes sent straight to your phone every Friday.