Billie Eilish says she feels "very hated and disliked"
15 February 2023, 17:16 | Updated: 18 May 2023, 14:17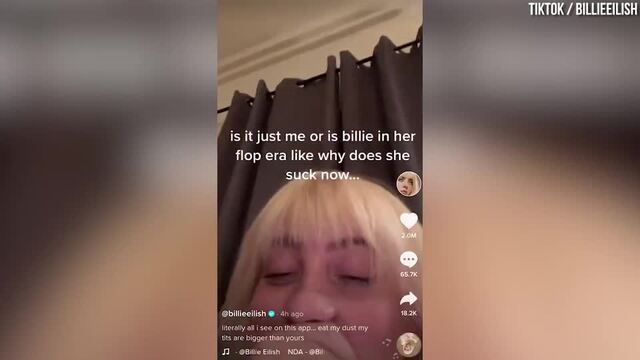 Billie Eilish claps back at fans saying she's in her "flop era"
"I keep scrolling and... it's a video with millions of likes and it's something about how I'm a horrible person"
Billie Eilish has opened up about trolling and said that she feels "very hated and disliked" in an interview with Lana Del Rey.
Throughout Billie Eilish's career, the 21-year-old artist has spoken candidly about the negative aspects of being in the public eye. From the pressure that she's faced to change her image to please other people to the way that fame has affected her friendships, Billie never fails to give fans an honest insight into what it's like to be one of the biggest stars in the world.
Now, Billie has explained that trolling still affects her and she says she can't even go on TikTok without seeing hate videos.
READ MORE: Billie Eilish reveals that she refuses to fly in private jets
Yesterday (Feb 15), Interview published a conversation between Billie Elish and Lana Del Rey. During the profile, Lana reveals that she really struggled with how she was treated by trolls and the media at the start of her career. She ends by saying: "It's definitely a different era now." Billie then replies: "I have trouble remembering this when I feel very hated and disliked."
Explaining further, Billie adds: "I have this inevitable feeling of, 'Oh, everyone hates me.' With the world of TikTok and social media, there is a level where it's kind of true because there are these videos. I'm lying in bed last night, and I go on TikTok because I'm falling asleep, and I just want to be mindless for a second, watch some funny videos."
Continuing, Billie says: "I keep scrolling and I'm thinking, 'Billie, put your phone away. You're getting tired'. Then I swipe to the next one and it's a video with millions of likes and it's something about how I'm a horrible person. All these comments are like, 'I'm so glad that you guys are seeing through her.' And I'm like, 'Damn'."
Billie says that she has to remind herself that the hate she sees is "such a tiny sliver of reality". It's just hard to ignore.
A reminder that what you say about people on social media can hurt people no matter how famous they are.
Read more Billie Eilish stories here:
Lockwood & Co. Cast Interview Each Other | PopBuzz Meets